Last Updated on May 13, 2022 by Scott Charleboix
In this post, What is SEO? One of the best things you can do to improve traffic on your blog is use SEO marketing which is a fundamental key to get ranked high by Google.
A prior post from PinArtwork: "What does SEO Stand for?" is a round-up post looking at 10 other posts (pulled at random) that have virtually the same title to answer that question. Be sure to read the part about what are the four pillars of SEO so that you can optimize your blog using a Holistic SEO approach. 
"With holistic SEO, your primary goal is to build and maintain the best possible website. You don't try to fool Google but invest your time and effort in a sustainable long-term strategy. Working on improving your pages and having a high-quality website will improve your chances of ranking.
Because Google wants to offer its users the best results to their search query and the best results are the ones that have great content, but are also user-friendly, fast, and easily accessible … Holistic SEO is the best way to rank your pages because you focus on optimizing every aspect of your site" Yoast.
"In summary, SEO is the foundation of a holistic marketing ecosystem. When you understand what your website users want, you can then implement that knowledge across your campaigns (paid and organic), across your website, across your social media properties, and more" Search Engine Land.
Search Engine Land's Guide walks you through the fundamentals of optimizing for search so you can develop a solid strategy to drive organic traffic to your site. In their guide, they explain these factors in depth and highlight SEO tips from experts to help your website get more visitors from search results:
Chapter 1: On-Page and Off-page factors that can affect your search rankings.
Chapter 2: How to create high-quality content that search engines and your target audiences will love to read.
Chapter 3: Looks at the aspects of your site that make it easy for search engines to access.
Chapter 4: Help on how search engines understand your content.
Chapter 5: A condensed version of using the E.A.T. principle for your website.
Chapter 7: Location and intent that can affect the results users see.
Chapter 8: Beware of SEO "shortcuts" to avoid Google penalties.
What is SEO?
One of my top posts ranking in the #1 position is Ultimate SEO Roadmap to Learning SEO.
It provides you with the strategy to setup your SEO by outlining 10 steps (see the image below).
Note: This image (located above) was one of my first images created and I've fine tuned the 10-step process as outlined a little further below (that differs from the one pictured above):
As of yet, I have three SEO frequently asked questions, (but I haven't moved the rest of the questions from another post there yet). One of the questions is question #1: How can I learn about SEO?
What is search engine optimization?
"Search engine optimization (SEO) is the art and science of getting pages to rank higher in search engines such as Google. … In Google and other search engines, the results page often features paid ads at the top of the page, followed by the regular results or what search marketers call the 'organic search results' " – Google Search.
To learn more about SEO, you may want to visit John Lincoln, the CEO of Ignite Visibility, which is one of the top digital marketing agencies in the nation. Ignite Visibility is a 4x Inc. 5,000 company.

John wants to share his knowledge and personal experience with everyone he offers courses, reviews software and publishes marketing-related articles and videos on his personal blog.

John's article explains how to use SEO and content marketing to rapidly increase a website's traffic in a short period of time.
What is search engine optimization (SEO)?
"SEO is the process of taking steps to help a website or piece of content rank higher on Google. … To make it a bit simpler, search engine optimization means taking a piece of online content and optimizing it so search engines like Google show it towards the top of the page when someone searches for something" Google Search. The results of the search are commonly referred to as a SERP.
When you search for something in Google (or any other search engine), an algorithm works in real-time to bring you what that search engine considers the "best" result. Backlinko
How Google determines the "best" result is based on an algorithm that takes into account authority, relevancy to that query, loading speed, and more. Google has over 200 ranking factors in their algorithm.
Neil Patel discusses that there are two core elements of SEO: 1) On-Page SEO and 2) Off-Page SEO
"On-page SEO is about building content to improve your rankings. This comes down to incorporating keywords into your pages and content, writing high-quality content regularly, making sure your metatags and titles are keyword-rich and well-written, among other factors.
Off-page SEO is the optimization happening off of your website itself, such as earning backlinks. This part of the equation involves building relationships and creating content people want to share. Though it takes a lot of legwork, it's integral to SEO success." Neil Patel – What is SEO?
On-Page SEO Tutorial from Backlinko
How do you define search engine optimization?
"The process of maximizing the number of visitors to a particular website by ensuring that the site appears high on the list of results returned by a search engine."the key to getting more traffic lies in integrating content with search engine optimization and social media marketing"" – Google Search.
How to get started with SEO?
A good place to go if you're just starting out in SEO is the Moz Beginner's Guide to SEO – Learn how to do SEO.
Additionally, another good suggestion is to look at Google's SEO Guide. The Starter Guide by Google is a knowledge of basic SEO that can have a noticeable impact.
"Moz offers the best resources on the web for learning SEO. If you're completely new to the world of search marketing, start at the very beginning and read the updated Beginner's Guide to SEO. If you need advice on a specific topic or want to explore more content for all levels of expertise, check out all of their learning options" – Moz.
What is a SERP?
The page that a search engine returns after a user submits a search query. In addition to organic search results, search engine results pages (SERPs) usually include paid search and pay-per-click (PPC) ads. Why are SERPs important to know about SEO?
What SEO techniques are working?
Follow these suggestions and watch your website rise to the top of SERP results.
Publish Relevant, Authoritative Content.
Update Your Content Regularly.
Use Meta Descriptions (sometimes referred to as Meta Data).
Have a link-worthy site.
Use alt tags in your images.
Learn about E.A.T. for your blog – Expertise, Authority, and Trust.
Neil Patel provides some cursory information about E.A.T. and describes it thusly: "EAT (Expertise, Authority, Trustworthiness) … is a gut check you can use to ensure that your content is connecting well with people, based on a criteria Google uses for real-world evaluators.
Create content that shows a level of understanding on a topic and reflects a reputation for a top source of information about it. Ask yourself whether the content you are putting out there is helping you build that reputation and allowing your readers to trust you on the topic. "
What is SEO marketing and how does it work?
It's a marketing strategy that focuses on your website's presence to improve your search results for search engines.
"When you understand how SEO works, you can use different tactics to increase your visibility (or how high you rank) in search results." Google Search
"SEOs use their understanding of ranking factors to develop and implement search marketing strategies that include a balance of on-page, off-page, and technical best practices.
An organization that hopes to earn and maintain high SERP rankings and, as a result, lots of high-quality user traffic, should employ a strategy that prioritizes user experience, employs non-manipulative ranking tactics, and evolves alongside search engines' and users' changing behaviors." Moz – What is SEO?
"Understanding (SEO Marketing) is one thing, but SEO requires a lot of action and time. This is not something you can make a change to today and expect to see results tomorrow. SEO takes daily actions with the goal of long-term success" – Neil Patel – What is SEO?
What does SEO do for your website?
"The primary purpose of SEO is to get higher rankings on search engines which in turn creates a larger target audience." Google Search
For techniques, tips, suggestions, and videos please look at my post featured below. It's a wonderful one-stop shopping place for all your SEO needs.
PinArtwork: Ultimate SEO Roadmap to Learning SEO – "An SEO roadmap is a step-by-step plan for executing your SEO strategy. Think of it like this: the SEO strategy is the "what" and the "why", whereas the SEO roadmap is the "how". The two go hand in hand to create a highly actionable set of tasks that have a high likelihood of achieving your SEO goals."
Ultimate SEO Roadmap to Learning SEO
I've rearranged the image so that it has 10 steps for learning SEO. I've added Keyword Research posts and videos as a separate step because that takes a long time to master.
With the use of the Roadmap how you use it, is going to depend on your level of expertise with SEO. New bloggers should start with Step 1 and more experienced bloggers already using an SEO plug-in could probably jump straight to Step 6: Develop SEO Strategy. The post was originally a huge post but to improve it's strength it was optimized and broken down into four parts:
Part 1: Concentrates on developing your SEO strategy with the SEO Roadmap. And you're introduced to the 10 Steps to learning SEO. Introduction to the Ultimate SEO Roadmap to Learning SEO.
Part 2: Picks up with the 2nd Step of Link Building Posts and focuses on growing your Link Building. Growing your Link Building.
Part 3: Picks up with the 3rd Step and continues with the remainder of the next steps. Implementing SEO Strategy – Steps 3 thru 10.
Part 4: Contains the Bonus Material: Ultimate SEO Roadmap Checklist. Ultimate SEO Roadmap Checklist.
☐ Learn SEO basics
Introduction to SEO
Keyword Research (moved to Step 4)
Competition Analysis
Content Optimization
Technical Optimization
The goal of link building is to get other websites to mention (and link to) your website. This is also known as "Off-Page SEO". Backlinko
How to get powerful backlinks (from Backlinko)
2. ☐ Learn to Execute an SEO process
Developing an SEO Audit
Establishing an SEO strategy (moved to Step 6 called Create a SEO strategy)
Setting SEO Goals
Measuring SEO
Reporting SEO
SEO Process Management
3. ☐ Learn to Implement SEO in your CMS
Guidelines to improve:
WordPress
Wix
Shopify
Magento and
Squarespace
4. ☐ Keyword Research posts and videos
5. ☐ Implement Free SEO Tools
6. ☐ Create a SEO strategy
7. ☐ Learn about Search Engines
8. ☐ Deepen your SEO Knowledge
The first three are extremely important so I'm principally looking at those three aspects
9. ☐ Read and keep up with SEO News
10. ☐ increase search traffic
Q. How to start in SEO?
A. I've written 80 posts on the topic of SEO, so that would be one of the first places I'd suggest for you to start learning about SEO. Also, you'll want to navigate down to the next question for other blogs that discuss how to improve your SEO.
Q. Where can I find the SEO basics?
A. To learn the "basics of SEO" jump down to Step 1: Learn SEO Basics. Additionally, here's another resource for finding information for the SEO basics:
PinArtwork: "Reading and learning is the key to learning SEO and as SEO is a fast-paced occupation it is well worth staying informed." Therefore, turn to 50 SEO Blogs to improving your websites SEO performance. Learnimtactics.com
Q. How to get started with SEO?
A. Get one of three popular plug-ins and this is how I recommend them in respective order: Rank Math SEO, Yoast SEO, and All-in-One SEO.
Q. What are the steps for doing an SEO strategy – step by step?
Step #1: Create a List of Keywords.
Step #2: Analyze Google's First Page.
Step #3: Create Something Different or Better.
Step #4: Add a Hook.
Step #5: Optimize For On-Page SEO.
Step #6: Optimize For Search Intent.
Step #7: Focus on Content Design.
If you want to see the exact process that Brian Dean uses on Backlinko to find his keywords, I recommend that you set aside a few moments to watch this short video – Keyword Research 5-step blueprint.
Below is an image that reminds you that if your serious about SEO to strongly consider investing in a keyword research tool. Two that I like to commonly use are Ubersuggest and Keysearch.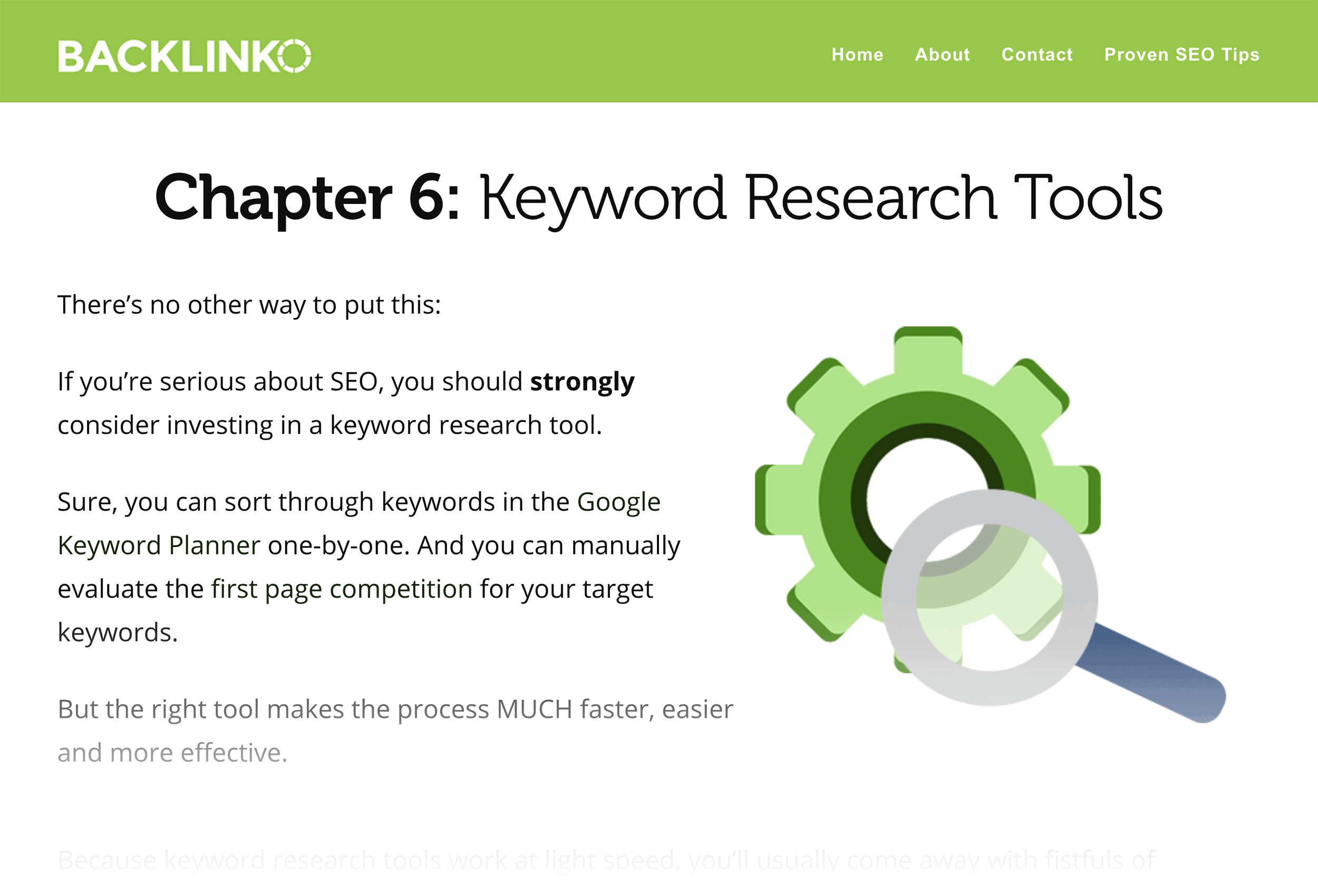 Q. How to SEO?
A. The best thing that I recommend is using the Rank Math SEO plug-in so that you can learn how to effectively use the power of keywords in your posts. That's the root of mastering SEO by writing your posts around your keywords.
Q. How to do search engine optimization?
A. It's a continual process of improvement to look at your posts and see how they can get improved by optimizing your post for many different nuances. Learning how to master SEO comes with practice.
Make your content better than the competitors
In order to have a good shot at ranking #1 for your keyword, you need to make sure that your content is better than the top-ranking sites.
With the use of CanIRank you'll be able to improve how your posts contents rank on Google and be able to determine how your site compares to it's competition (see screenshot below). With the use of CanIRank you should be able to dramatically improve your SEO results.
Check out the Competitive Analysis table on your Grow my Content report to see how strong the competitors are.
First, you'll want to get an idea of how long the competing pages are — do you have more text content?
Next, check out how well optimized those pages are by clicking on the View as search engine link.
An important point to note is that "Google ranks web pages, not web sites" – Ahrefs.com.
Last but certainly not least, take a look at the quality and relevancy of inbound links to the page. Do the competitors have a lot of links from quality sites that match the keyword you're trying to target? Those can be tough to compete with!
The image below is from a blog post that I wrote that was my first 100% optimization score within the CanIRank AI program. I wrote a post called Tweaks to optimizing posts so they can rank higher. The post pinartwork.com/national-blog-posting-month-nablopomo/ was currently ranking 13th for 'nablopomo', and it was too low to send much traffic.
In that post, I'll show you some fast and easy tweaks that you can make to your content (with the use of CanIRank) to have a perfectly optimized page (improving your Content SEO) along with a few other tricks to boost from a page 2 or 3 to a prestigious page 1.
I'm bringing this to your attention because it helps to illustrate the importance of knowing what is SEO, which in turn will to improve the traffic that's coming to your blog.
Conclusion
What three steps are the foundation of SEO?
Getting started with the basics by making sure that search engines can fully crawl your site.
Start creating keyword-optimized content.
Finally, use outreach to get backlinks.
"There are tons of link building tactics but if you're new to the game, aim to build links to your best informational content (e.g., a blog post or a free tool)" Ahrefs.com.
"Ultimately, the goal of SEO is to optimize pages of your website so that they each align with what users want when they search for something. Google encourages designing pages primarily for users, not search engines, giving users the best content relative to their search query" Terakeet.com
Please take a look at some of these other suggested links:
Boost your Website Relevancy by Bulking up on Thematic Content
Build your site architecture for optimal SEO
Understand what makes a good link
How to find the best keywords for SEO
3 Steps to get 10000 Visitors in 3 months
Suggested posts to find out more about What is SEO?
http://moz.com/learn/seo/what-is-seo
http://neilpatel.com/what-is-seo/
http://backlinko.com/hub/seo/what-is-seo
http://www.optimizely.com/optimization-glossary/search-engine-optimization/
http://developers.google.com/search/docs/beginner/seo-starter-guide
http://ahrefs.com/blog/what-is-seo/
http://www.semrush.com/blog/what-is-seo/