Last Updated on January 2, 2022 by Scott Charleboix
This is an updated post to Tailwind about learning the basics of using Tailwind. Because the Tailwind program has changed the layout of the program. There's no sense in providing a link to the old post because the program has substantially changed. The fundamentals of this post still apply; however, you'd be confused if you were trying to use the pictures from the old post to find your way easily around Tailwind. Therefore, I'm updating this post with new screenshots of the "new" Tailwind program that now features a Community as opposed to Tribes. There is a lot to learn so I'm just going to be concentrating on three aspects:
This post contains affiliate links, which means I will make a commission at no extra cost to you should you click through and make a purchase.
Setting up your boards for Pinterest
Downloading pins from a Community to your board.
Uploading pins from your boards or website to a Community.

Before diving into my experience of using Tailwind here's what other people had to say about using Tailwind. For this blog post, I'm only concentrating on Tailwind for Pinterest. The trial to Tailwind is based on 100 scheduled Pins. For your information, Instagram, Pinterest, and Tailwind are separate paid subscriptions. One major reason to use Tailwind is that Tailwind is a Pinterest and Instagram Partner.
"Want to rock Pinterest marketing – without spending a bundle, or adding hours to your day? You need Tailwind for Pinterest! Tailwind app is simply the most efficient way to drive traffic to your blog or online store. Once you get the hang of it, you can set up a week's worth of traffic-driving Pins in an hour."

Google Search
"I would definitely say it's worth it if you're prepared to spend time scheduling pins, I've heard some great success stories about bloggers who have used it."

Google Search
"As stated on their homepage, Tailwind is an "Official Pinterest Marketing Developer Partner for Content Marketing" … I'd like to draw your attention to one very important word here: Official: it's an official Pinterest partner."

Google Search
Update of developing my blog.
Look at how your Pinterest boards can grow by viewing typical results for Pinterest users.
In this blog post, these are my personal results, but Tailwind also publishes the Typical Results of Tailwind Members every year, so you can see exactly what the average growth rate looks like for their members."
Blogs should be focused on the contents of the blog by relying on quality and not quantity. Instead of pushing out daily blogs advice given from other bloggers to bring in more users and money is to post less frequently. Content is a key ingredient, place quality over quantity.
I had notes of my different ideas to post and what I had learned scattered throughout three notebooks. Eventually I got to the point that because I was grabbing the nearest notebook to put my notes. It was hard to return to the notebook where I had made an entry and I had to fumble through all the notebooks.
It's my hopes that by sharing my progress with you that your journey building your website and pinning will be less hectic and you'll have several ready references for yourself and that you can quickly familiarize yourself with Tailwind.
I've been using Tailwind for nearly half a year. When I first started using the program it was daunting to use, but with time and forcing myself to use this highly recommended program within the Pinterest Community I knew it had to be mastered. Fortunately, with time and comments from other users, Tailwind realized that they needed to change their layout and now it's so much easier to use.
If you're using Pinterest and you're just updating your Pinterest Board and no one else's your missing out on a great way to get the word out to other people and brand your product (through pins).
Tailwind is a great program that you can review pins and push them out to several different users at one time and you specify the board that they are assigned to. These are my personal results, but Tailwind also publishes the Typical Results of Tailwind Members every year, so you can see exactly what the average growth rate looks like for their members."
Pro Tip: When I first started using Tailwind I was pushing pins to duplicate boards. I didn't realize that is a Pinterest no-no (read the fine print of the Community Guidelines in Pinterest). It can end up getting your Pinterest account flagged for spam. If you are a blogger and you would like to take your Pinterest to the next level, I highly suggest that you invest in the course called Pinterest Traffic Avalanche Course. It's like having an insurance policy for Pinterest.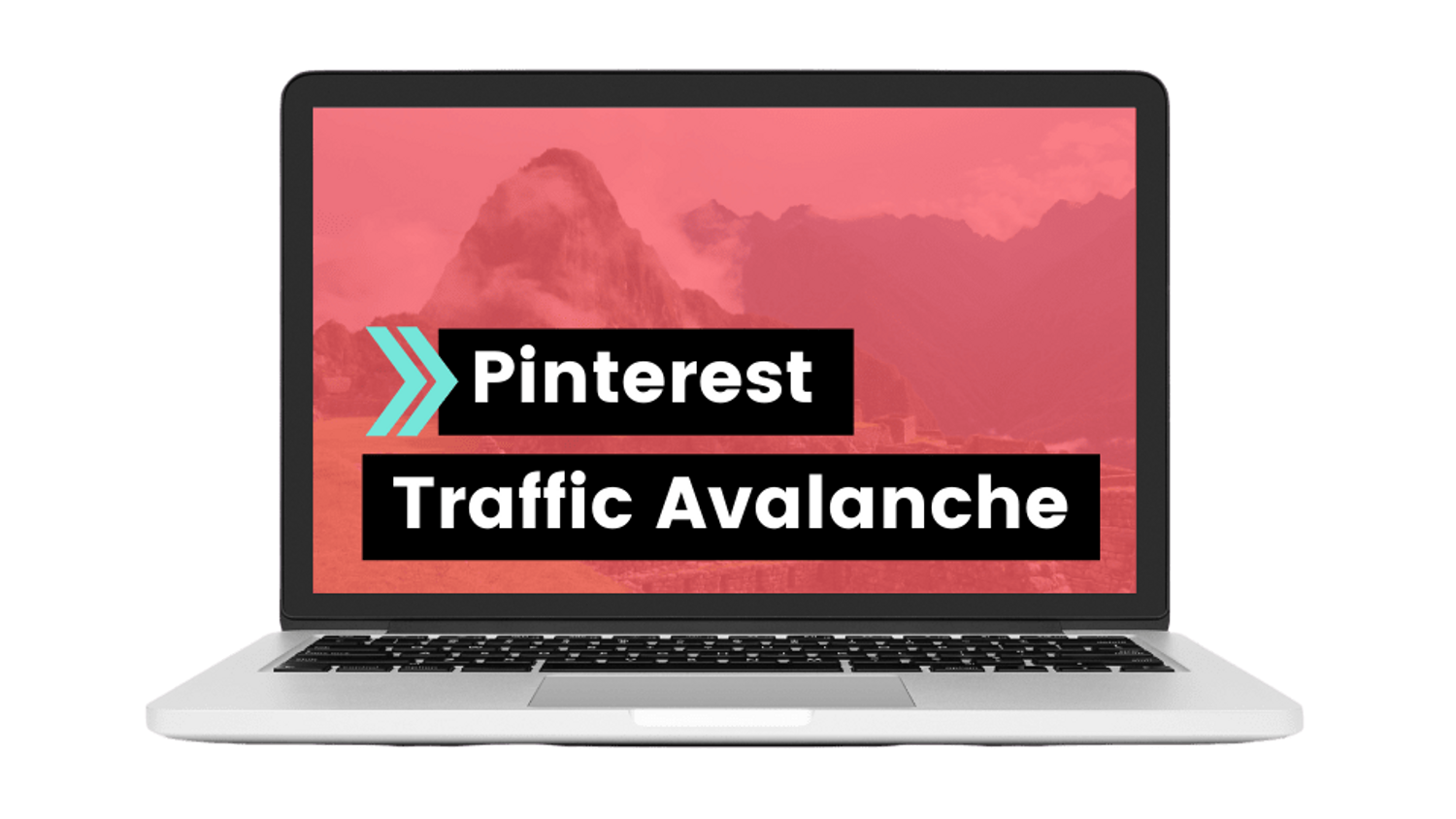 When you use Tailwind it's very intuitive. For example, if you rename a board in Pinterest that information is also updated in Tailwind. If you add new boards to Pinterest you may from time to time have to refresh your boards for the newer boards to be seen.
Let me tell you something about myself, I like visuals because a visual is a lot easier to use when you're first learning a product. I'm also one of those types of people that when I open a new computer program one of the things that draws me to new programs is the ease of the program. As I mentioned this wasn't easy to use. It took me a few days to get comfortable using it. For the most part I'm able to get into the program to publish my pins, but it'd be so much easier that if I were to have step-by-step procedures so that I wouldn't have to fumble with the buttons.
Read me first – Tailwind Overview
Before you jump straight into the Tailwind program, here's a general overview of the buttons. Please keep it in a handy place until you get comfortable using the program. If you want to go right into using the program jump down to Creating Your Board lists. I'll write about how to use it so that you'll be able to use the program and jump straight into it feeling extremely comfortable within a few days of using it.
First time logging into Tailwind
As soon as you log into Tailwind, it automatically goes to the Insight section to display the Profile Performance Screen. From here you're able to see that there are seven tabs you can select from at the top of the screen:
Profile Performance (the "default" opening view)
Board Insights
Pin Inspector
Website Insights
Top Pins
Organic Activity
Referral Traffic
There are a number of important factors that you may want to keep track of on the top: Followers, your number of pins, repins, and comments. To the far right, you'll be able to see your daily follower growth.
In addition, there are three performance indicators: Virality score, engagement score, and engagement rate. You can also find the number of followers at the top of your main Pinterest Board.
Tailwind buttons overview
Tailwind button
Your Pinterest logo – Manage accounts, Get Started, or add more accounts.
Weekly Summary
Tailwind Communities (formerly called Tribes – used often)
Publisher
Tailwind Create ( a new feature)
Insights
Insights
Pictured below are the 6 main buttons that you're going to be using. If you hover over the top button, Tailwind doesn't provide you with the name for this button. It's just a pin to represent Tailwind. Moving on, Tailwind will get the picture from Pinterest of your bio (if you have put it into your Pinterest profile). The weekly summary button (a house) is something you might want to take a look at occasionally.
Below is what this button (the house – Weekly Summary) will portray. A useful feature in this screenshot is the area to the far right called: Complete your account. From time to time it will prompt you with things that you might have missed doing on Pinterest.
The Tailwind Communities button is especially useful, get used to it. When you open tribes, create a new tribe on the far right of Tribes. Look at other tribes for their sample rules (if you decide that you want to make your own tribe).
The pictures below are from the old version of Tailwind. But I'm keeping them because a majority of the icons haven't changed.
In addition, you'll be able to see the key differences between Publisher and Insights.
Publisher for the most part is the part that you'll be using to publish your Pinterest pins.
Insights is things that are handy to provide retrospect into your Pinterest pins to see how they are performing.
Publisher:
There are eight buttons under the category of Publisher (see picture below). The most important one that you'll be using is #2 Scheduled pins to put your pins into the queue for publishing to a board. If you haven't used Tailwind before you'll want to ensure that you set up your board list (which reflects the boards that you want to post into Pinterest).
Drafts
Scheduled (your "scheduled" pins)
SmartLoop
Published (your "published" pins)
Your Schedule
Board List
Pin from Instagram
New! Design in Tailwind Create (personally I haven't used this new feature yet).
Insights:
There are seven buttons under the category of Insights:

1. Profile Performance
2. Board Insights
3. Pin Inspector
4. Website Insights
5. Top Pins
6. Organic Activity
7. Referral Traffic
I like to look at the Pin Inspector to see which pins are performing well. From here you can decide if you'd like to make different variants of your well-performing pins. You'll know which menu you are in because the menu that you are in will be underlined at the top.
C. Creating your board lists
Step 1
Okay gang let's get started using Tailwind. Real men don't need instructions, right? Wrong on this program. So that's why I'm writing this blog as well as a handy quick reference I can use for myself.
It's absolutely necessary for you to build your boards first. Tribes is where you can display all your pins, new pins to add, just your pins, and select pins for you to schedule or skip.
Tailwind has a video called "Watch this video for a quick demo!" . The Tailwind program has made remarkable advancements so creating a board list may not be necessary anymore. To be sure, preview the demo mentioned above and follow their guidelines.
Creating Your Board Lists (table #5)
Click on the big "+" to add a list.
At the top of each board add a board name (blank …… lines).
Start adding each board (from your Pinterest) into the predefined Groups.
It's a lot easier than it sounds, after you've named the board, you just click in a blank space and underneath and find the board(s) that you want to add. If you add a board at a later time, select the Refresh Boards.
Step 3
Tailwind Communities – Step 2 (Downloading to your board).
What you'll need to do is go to Tailwind Communities. Then select a Community that you want to download their pictures or upload some of your pins to their tribe for others to view. There's a feature called "Skip this content and hide it from your tribe feed." You can skip content by hovering over it and clicking the crossed-out eye icon. It's a little hard to see, it's a little eye located in the top right-hand-side of the pin. Sometimes it takes a little while for the pin to disappear. I imagine it's because so many people are using the program.
At this point, I'd like to invite you to join my Tailwind Tribe. Here's the link for you to join: https://www.tailwindapp.com/dashboard/tribes/45280
New: Shows you New content added by others that you haven't yet "Shared" or "Skipped" (this tab loads by default)
Yours: Is where you go to see the content you've added to the Tribe
See More:

Shared: Shows you everything you've scheduled from the Tribe

Skipped: Is where all the content you decided not to share from the Tribe lives.
All: Click here to see everything that has been added to the Tribe
Unfortunately, I'm not able to provide an update to the information about finding more communities because that particular function on my computer results in a blank screen. Sorry for this inconvenience.
Click on Find a Community. Once you've defined your Community you can use the first field (Your Tribes) to toggle between the different tribes. I recommend that you don't use the search button at the top (in Find a Tribe) that says: "Find tribes to join by keyword or category". It locks up too often.
Use the popular tribe categories (the 12 buttons on top) or use the other ones called "Other Popular Tribes Topics". The difference between the two is that the ones on top allow you to narrow in your focus to other categories within that topic.
Select the Tribe Category that you want. For the purpose of demonstration, I selected: Health and Fitness and the subcategory was Motivation.
Before your too quick on the draw and select Join Now or Request to Join preview the tribe first, that's to the right of the Tribe's name: Preview Tribe. Once you've made your decision, select Join Now or Request to Join.
Find a pin that you like. Where it has: "Type in the Board Name" – Enter the board name. Underneath that select which board or boards you want to place the pin.
Once it's been input, click on add to queue. Don't forget all the pins before they get added to the queue need to have a pin description. I don't know why, but once in a while they'll be blank.
The pin has been placed in the queue, but you're not done yet. It still needs to get scheduled so that Tailwind knows which board to schedule the pin.
In the scheduler you'll decide which tribes to put pins and I'll provide step-by-step directions. This helps me immensely by putting into this format so that I as well have a nice reference tool to use this program that you're probably going to want to use over and over if you want to build your Pinterest followers.
Pins that you placed in the queue are now in your Scheduled Pins (2nd button down under Publisher). Click on Scheduled Pins. This is for if all you want to do is to pin it to your board without adding to the tribe. That's a different process.
Also, you can click on pins that are on the right-hand side and move the pins manually to a different time by dragging the pin to its new position.
Tribes – Step 3 (Uploading pins from board or website to tribes).
We're almost at the finish line. Now it's time to play with uploading a pin
from one of your boards or from your website.
Select Pin Inspector (3rd button under Insight – see Table #6 above) – Select Insights and then Pin Inspector.
For the pin that your selecting chose "Add to Tribes" on the right.
Select the Tribe that you want to submit the pin and press Add to Tribe.
Tailwind has developed a new program that allows you to create a batch of beautiful pins in no time at all. In less than a 2-hour time-frame, I was able to create 32 pins (about 1 pin every 4 minutes). This would have normally taken me a lot longer and the Tailwind Create program churned out a whole bunch of "suggested" pins for me to schedule.
If you're interested in learning how to use Tailwind Create to make a plethora of pins, please read the post called: Designing beautiful pins with Tailwind Create.
If you want to be a perfectionist, you could ideally take a screenshot of the pin and make it in Canva. Sometimes, the pin has a little too much detail, but 9 times out of 10 I take the pin right out of Tailwind and schedule it as is (without making any modifications). If you're a blogger, I'd highly suggest that you check out this program.
Pro Tip: If you decide you want to create more designs based on the settings that you've used, you can reuse your settings. Just return to the main Create screen and select Use Session inputs.
If you already have Tailwind click on the image below to get started with Tailwind Create.
Hopefully now your ready and eager to play around with Tailwind. Good luck and Happy Pinning.
If you like this post, please take a look at this cornerstone article:
Effective ways to increase website traffic.
Learning the basics for how to use Tailwind
Tailwind Tribes (now known as Tailwind Communities)
Self-Reflection: Seven Months of useful Blogging insights to grow your blog
How to use Tailwind to grow your Pinterest Boards
If you liked this post, please pin the image below. Thank you.
The pins below were made with Tailwind Create.