Category: Growing your Blog
This frequently asked question answers: "To optimize for keywords how many words should be in a post?"
To optimize for keywords how many words should be in a post?
Word Count – Don't write pages and/or posts with less than 600 words.  If your copy and pasting from Word. The number of words in Microsoft Word gets displayed in the bottom left hand corner next to page x of y. The goal to shoot for is between 1,000 and 1,200 words.  It's okay to go over, Google appreciates detailed articles.   Focus on providing quality content not quantity.
If you're using Rank Math SEO plug-in the number for your content is displayed at the bottom of the 1st tab called Basic SEO. The minimum recommended content length (within Rank Math SEO) is 600 words.
For the best results, Matthew Woodward, an SEO expert suggests that you write at least two quality posts per month with more 2,500 words in each of the two quality posts. It's a lot easier to add more keywords when you have posts of that size to select some good keywords for the article.
I did a Google search for how many words should be in a post and here are some of the other results that I got from that search. Ultimately the choice for how many words lies in your hands so I'm providing you with the "guidelines" I found.
"The research is clear: In general, blogs post should be more than 1,000 words. And the longer your post, the more likely it is to rank higher in Google searches. Of course, blog articles should only be as long as they need to be. Some posts can get their message across in 300 words.

And many people argue that no one is reading anything online that takes more than a few minutes to read. But the fact is, when researching online, most readers want more information that a 300-word article can convey."
"A blog post should be well over the minimum of 300 words to cover the topic adequately— at least 1,000 words.
Longer blog posts need to contain actionable information that will help their readers solve problems.
To retain readers' attention, though, you need to split up the text in smaller, scannable chunks— with attention-grabbing subheadings, visuals and bullet points.
Blog post length, however, isn't the only factor that helps your blog move up in the search engine ranks.
To rank well, you must publish posts often — at least two to four times a week." Ibid.
The post 'how many words should a blog post be' suggests as a Rule of Thumb you should write 1,000+ bog posts.
Here's a Table of Contents from the Ultimate Roadmap to Learning SEO:
Summary:
The image below from Neil Patel best represents why it's important to have at least 2,500 words for two monthly quality posts. How Long should your Blog Articles Be? and how the various number of words affects your social shares. If you do the simple math, if you continually get into the habit of writing 2,500 words as compared to writing just 600 or 1,000 word articles, you're increasing your social shares by two or three times dependent on the number of words you normally write.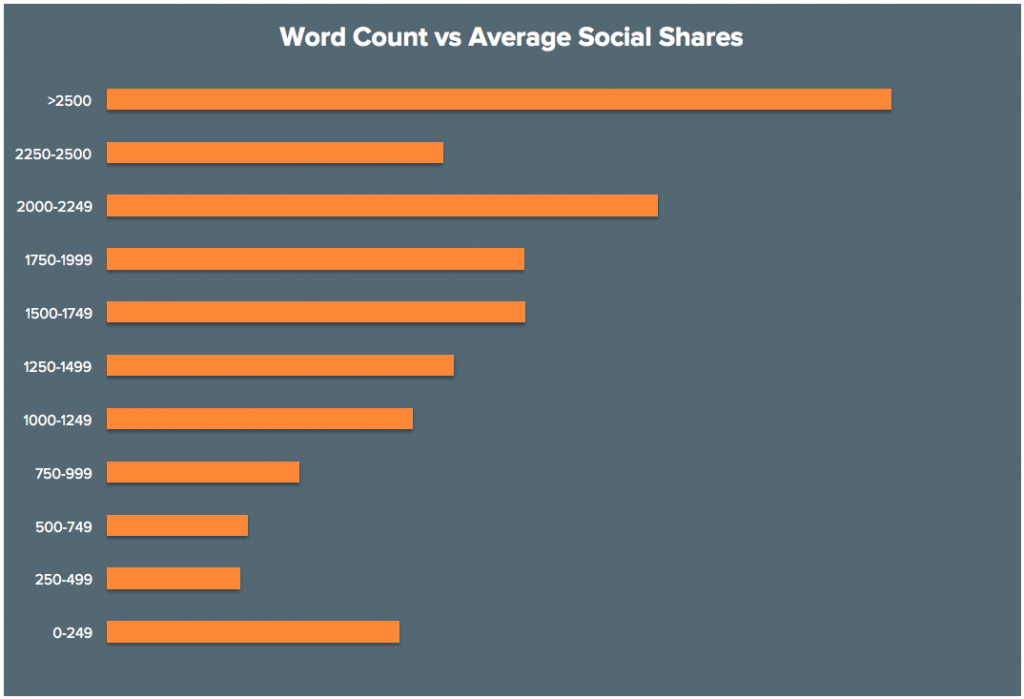 I hope that you've been able to benefit from this frequently asked question regarding To optimize for keywords how many words should be in a post? If you liked this post, please pin one of the images below to one of your relevant boards. Thank you very much.