Last Updated on June 5, 2022 by Scott Charleboix
In this post, Ultimate SEO Roadmap to Learning SEO (USRTLS), the tables below are extracted from a website created called LearningSEO (I've added the image below further down the post). Although I was greatly impressed by their image, I was surprised to find out that it didn't have links to many of the subjects that could have been made, so I'm rectifying that on my site. I'll be providing you with links to many of the posts that I've already written on some of these subjects and videos that have been created by SEO experts.
If you've been thinking to yourself: Geez, "I wish I had a roadmap, a Roadmap that I could use as a guide to help me get my site to rank higher." Well, worry no more, I've got one for you. Master the art and science of search engine optimization through a simple, but powerful 10-step strategy abbreviated as USRTLS.
Update: One of the fundamental goals of a blogger is that they should want to have #1 Google ranking posts to bring traffic to their blog and to generate sales. I have an AI (artificial intelligence) program called CanIRank that helps me to analyze my posts and suggests ways to optimize my posts for SEO.
I have a list of 15 suggested topics that I can write about and CanIRank suggests the best topic for me to write about based on my target keyword.
One of the things that it discussed is that I had too many words within this post. By having too much text on a page it may rank less for the reason that it could overwhelm your readers if they are reading too many topics.
By adding more keywords and phrases to the post, it will make it easier for people to find your content when they are searching for a specific topic.
For that reason I'm going to be breaking down this post into smaller sections. At the top of each post I'll have links to the next and previous sections. Here's a short summary of the new layout:
Part 1: Concentrates on developing your SEO strategy with the Roadmap. And you're introduced to the 10 Steps to learning SEO. Introduction to the USRTLS (this part).
Part 2: Picks up with the 2nd Step of Link Building Posts and focuses on growing your link building. Growing your Link Building.
Part 3: Picks up with the 3rd Step and continues with the remainder of the next steps. Implementing SEO Strategy – Steps 3 thru 10.
Part 4: Contains the Bonus Material: A Roadmap Checklist abbreviated as USRC.
Part 5: Contains a DIY SEO Roadmap updated from an image in an old post in 2013 called Master Level SEO workshop that you'll have two methods to decide how you want to implement your SEO Strategy with (10 steps) or the Roadmap image from 2013 (with 8 steps). Or maybe you can come up with your own and combine some facets of each of them into one of your very own.
Contents for the USRTLS
Ultimate SEO Printable (coming soon)
I've put a lot of time into mastering SEO and my Ultimate SEO Roadmap to Learning SEO post has more than 500 incoming links. With this SEO Printable you'll have a very valuable tool at your fingertips to quickly learn about SEO. The Ultimate SEO printable (coming soon) is provided to you in a digital download in PDF format. Subscribe to PinArtwork and you'll get this free Ultimate SEO Printable.
Mastering SEO will not only improve your traffic, but it can also improve your sales. The closer that you rank on Google to the top, the better. The Ultimate SEO printable is your ticket to getting ranked higher on Google.
This post contains affiliate links, I'll make a commission at no extra cost to you
should you click through and make a purchase.
This SEO plan is one of the best ways to learn search engine optimization and learn SEO for free. By going through the checklist items that have been suggested for you, understanding SEO should be that much easier.
I like to think of the Roadmap as a beginners guide to SEO. It provides many SEO basics for beginners as well as many intermediate SEO fundamentals. There are a few ways to use the Roadmap. The first way is to simply go through the checklist items one by one and learn about each item. This is great for beginners who want to learn about SEO and how it works.
Ultimate SEO Roadmap to Learning SEO
Before we get too far into reading this post, I wanted to quickly cover a few frequently asked questions (FAQs) that pertain to search engine optimization (SEO).
Q. Where to start learning SEO?
A. I've written 106 posts on the topic of SEO, so that would be one of the first places I'd suggest for you to start learning about SEO. Also, you'll want to navigate down to the next question for other blogs that discuss how to improve your SEO.
It's important that you realize the importance of using SEO if you want to build your organic traffic because the process of understanding and learning SEO takes about three months, but can take anywhere from 6 to 18 months to learn the "advanced concepts".
Q. What are the best places to learn SEO?
A. 50 SEO Blogs to improving your websites SEO performance is the post that I recommend for the best places to learn about how to use SEO. Trying to improve your website's search engine optimization (SEO) is a very important element that bloggers need to know about to bring traffic to their blog.
PinArtwork: The post, "What does SEO Stand for?" is a round-up post looking at 10 other posts (pulled at random) that have virtually the same title to answer the question, what does SEO stand for.
PinArtwork: Reading and learning is the key to learning SEO and as SEO is a fast-paced occupation it is well worth staying informed." Therefore, turn to 50 SEO Blogs to improving your websites SEO performance. Learnimtactics.com
Q. Where can I find the search engine optimization basics?
A. To learn the "basics of SEO" jump down to Step 1: Learn SEO Basics.
Q. How to learn SEO for beginners?
A. If I had to start SEO all over again here are a few of the recommendations that I'd suggest to you to learn SEO as a beginning blogger.
First and foremost, I got a lot of helpful information to learn about SEO from an SEO expert Matthew Woodward and I'd start by googling Matthew Woodard and then looking at his (Matthew Woodward SEO) YouTube Videos. He's known for his detailed videos.
Also people like to learn in different ways, some prefer video tutorials while others may prefer to read how to x, y, or z. If your cup of tea is reading how to do things, I'd suggest Googling Neil Patel, another SEO expert who has the website Ubersuggest for researching keywords.
Q. How to teach yourself SEO?
A. If you carefully look at all 10 steps of the USRTLS you'd be able to teach yourself SEO. I've broken down my original post into five parts so that you can learn how to teach yourself SEO.
If you'd like to get a copy of the Ultimate SEO Roadmap to Learning SEO Guide, please fill out the form that's provided below and it will be e-mailed to your e-mails inbox.
That way you'll be able to refer to the checklist any time that you need it to teach yourself the basics of SEO in a relatively short amount of time. The "best way to learn SEO" is to understand these SEO basics and then apply the information that you've learned. Reevaluate your posts and repeat the process to further optimize your post. It's long continual process.
Q. What is a website performance roadmap?
A. "The great thing about Growth-Driven Design is that your website is never finished. That means your website is never old and you can continue adding new features time and time again to maintain that competitive edge. It's no good just randomly throwing features in, though. Instead, the GDD process lets you adopt the Website Performance Roadmap to follow so you're always making those impactful changes."
Below are two graphics that help portray a website performance roadmap. I provided the 2nd image (an infographic) because it helps to provide you with a roadmap to visualize your marketing campaign. By using CanIRank you'll be able to fulfill Step 6 which is integrate your marketing campaign.
Without the use of CanIRank I wouldn't have been able to make this post rank #1 and it's a very essential step to grow your website with a marketing campaign of some sort. With CanIRank you'll be able to do the marketing campaign as a DIY project with the help of their AI program.
This post contains affiliate links, I'll make a commission at no extra cost to you
should you click through and make a purchase.
What is an SEO Roadmap (vs an SEO Strategy?)
This post is quickly becoming one of the best places to turn to for SEO training as indicated by growing from 344 to now more than 540 incoming links (see below). SEO really isn't that hard. Not really, once you figure out the big picture of how it all fits together and that you're using an SEO plug-in like Rank Math to make your job easier to optimize your posts.
PinArtwork: "A Roadmap is a step-by-step plan for executing your SEO strategy. Think of it like this: the SEO strategy is the "what" and the "why", whereas the Roadmap is the "how". The two go hand in hand to create a highly actionable set of tasks that have a high likelihood of achieving your SEO goals." – TheGray.Company. A Roadmap should be detailed enough to tell you exactly what steps you need to take.
I've slightly modified and rearranged the steps that were within this image and I I believe that this is truly the most ultimate roadmap that you'll find for learning SEO. I've also changed it from 9 steps to 10 steps by adding "increase search traffic." The 10 steps within the roadmap will aid you in developing your SEO strategy (do develop the "what" and the "why").
This guide is designed to be a living document that will be updating to provide you with How to learn SEO as I continue to grow my SEO. If you have any suggestions for additions or changes, please leave them in the comments below.
The image below is an example of SEO strategy that you could emulate for your own website. This SEO template is also available in PDF format for you to download >> Free SEO Strategy Plan in PDF format.
I suggest that if you're a new blogger to copy, save, download, and/or bookmark this SEO template. As you build your SEO Strategy use some of the suggestions within this post as your SEO implementation checklist guide. I hope that if you're a new blogger, that you'll take advantage of my SEO template that will guide you through setting up SEO on your website in the post called What does an SEO Strategy look like?
This is a tip from Eb at Productive Blogging that I have just found out about and it only took my about 5 minutes to set up PinArtwork's ConvertKit Tip Jar.
ConvertKit Tip Jar is a really simple way to monetize your free blog content and gives your readers and fans a tangible way to say 'thank you'. Better still, it takes just 5 minutes to set up! It's especially good to use if you create lots of free content on your blog? The image below is functional and I would greatly appreciate any tips.
Quick plug for the pins depicted below which are more than likely in the post Top 52 Star Trek TOS Pins created by Michael Schuh Star Trek artist who I've studied his pins quite thoroughly. I put this in here for the Trekkie fans like me.
It's my hope that you'll use this post as your SEO guide because many of the items in the USRTLS provide links with How to learn SEO step-by-step. The reason that I like this roadmap so much is that it's a good way for new bloggers to learn SEO from scratch. If you have any questions, please leave a comment below and I'll do my best to answer them.
This roadmap provides a means to provide you with SEO basics and it is very paramount for you to help how to plan SEO strategy. One of the main benefits of this roadmap is to provide you with free SEO training that I haven't been able to find elsewhere.
Please use the Roadmap as a template to build the strategy for your SEO. To help you understand the Roadmap, I have written this blog post that further explains each of the items in the template. This will give you a much better understanding of how to use this template.
As an extra bonus, located at the bottom of this post (above the gallery of pins) is the USRC. I had it perfectly formatted for you in Microsoft Word; however, WordPress didn't like the formatting and it changed my formatting so I've done my best to make it easy for you so that it's still in some sort of outline fashion. Below is a Table of Contents for the items that are within the USRC or you can navigate down the post a little further and the Table of Contents built my TOC plug-in to see all the SEO topics.
Below are two landing pages for you to subscribe to PinArtwork and get my free gift USRC in Word (on the left) or PDF format (on the right). The latter is in case you don't have Microsoft Word so that you'll still be able to see the checklist but it won't be accessible to use as a checklist whereas the Word version will be able to provide that capability to use as a checklist and click the boxes.
USRLS 10 Steps
Below is how I've rearranged the 10 steps from the image above (with only 9 steps). I've also added Keyword Research posts and videos as a separate step because that takes a long time to master.
So please use the links that are listed within the table of contents above.
Here's the outline for material that you'll find within this post.
☐ Learn SEO basics
Introduction to SEO
Keyword Research (moved to Step 4)
Competition Analysis
Content Optimization
Technical Optimization
Link Building
2. ☐ Learn to Execute an SEO process
Developing an SEO Audit
Establishing an SEO Strategy (moved to Step 6 called Create a SEO Strategy)
Setting SEO Goals
Measuring SEO
Reporting SEO
SEO Process Management
3. ☐ Learn to Implement SEO in your CMS
WordPress SEO guidelines
Wix SEO guidelines
Shopify SEO guidelines
Magento SEO guidelines
Squarespace SEO guidelines
4. ☐ Keyword Research posts and videos
5. ☐ Implement Free SEO Tools
Keyword Research Tools
On-Page SEO Tools
Link Building Tools
Web Speed Optimization
Mobile SEO Tools
SEO Audit Templates
WordPress SEO Guidelines
Google Search Console Guidelines
6. ☐ Create a SEO Strategy
7. ☐ Learn about Search Engines
8. ☐ Deepen your SEO Knowledge
The first three (Technical SEO, Content SEO and backlinks) are extremely important so I'm principally looking at those three aspects
Technical SEO
Content SEO
Backlinks
Deepen your SEO knowledge with the 10 steps that have been outlined in the USRTLS and these 10 pins:
9. ☐ Read and keep up with SEO News
10. ☐ Increase Search Traffic
If you go to my Pinterest account, PinArtwork Blogger, you'll see a new Idea Pin that I've created for the URSC which has all of the checklists in it. Or you can pin all (or your favorite) of the URSC pins located at the bottom of this post.
3 Ultimate Guides (from Mangools SEO Blog).
Before I forget when I was optimizing one of my older posts for improving it's SEO score, you might want to take a look at post called A visionary image to monetize your blog which features "more roadmaps" to learn about SEO.
In case you're wondering why the steps are in a different order in one place than another, is because I've rearranged the steps so that they are more meaningful for you to use and eventually I'll have images that coincide with the steps so that you don't detect any differences between the two. But that's going to take some time as I continuously am trying to improve this post that already has 419 incoming links. Thank You!
You don't have to follow the the Roadmap in the exact order that it's laid out below. Because people are going to have various levels of their experience with using SEO. The roadmap to learning SEO is laid out in fashion that if you were to follow the 10 Steps listed below you'll strongly benefit from the traffic that should start coming to your blog with some patience, time, and effort on your part.
If you look closely at this post, you'll notice that I took off one of the ten steps (Complement your SEO Knowledge and I've replaced it with something that is equally important for bloggers and that is Increase Search traffic). But I've still left the information with the post to complement your SEO knowledge.
Within each of the 10 steps there are some sub-steps for items that I suggest you learn. I've put the"suggested" sub-steps into the columns below:
Shortly down the page (where you see Learn SEO basics again) I've added tables that contain links to posts and/or videos that provide further clarification on SEO topics. All in all, if you follow this roadmap, you'll have yourself a very good SEO strategy.
I've set up this Roadmap to Learning SEO so that's akin to the books that I like to read called the Dummies books. Which you can pick up one of the "for Dummies" books and go straight to the content that interests you the most that you want to learn some more information.

As I wrote this post and developed the images I slightly changed the order of the steps. It's not imperative to follow the steps in order so I'll modify that layout of the steps as soon as a I can because it's going to take time to restructure the layout if do it.
Introduction to SEO and Holistic SEO
Keyword Research (moved to Step 4)
Link Building and see the link building posts located above Step #2.
Step 1: Learn SEO basics consists of the six steps above.
For the process of Introduction to SEO it's best to get started with Holistic SEO and I've added a table of 24+ posts to point your SEO in the right direction.
In this table, Learn SEO basics, this is the foundation where you begin to learn SEO from scratch. Also, here's a link to 50 SEO Blogs to improving your websites SEO performance.
I truly believe that you'll get the most out of SEO if you apply Holistic SEO to your SEO strategy.
Introduction to SEO and Holistic SEO
A Holistic SEO is looking at the overall big picture with the primary goal of building and maintaining the best website. What will come along naturally if your website has extremely high quality is a better ranking and more backlinks. So if you're a new blogger please read the 1st post listed called: " Introduction to Holistic SEO" and implement some of the suggestions from within that post.
Below are 24+ posts to Learn SEO basics!
"Reading and learning is the key to learning SEO and as SEO is a
fast-paced occupation it is well worth staying informed." – Learnimtactics.com
What's the "Best" Word Count for your posts (a blog post from 2019). Pro-Tip: Matthew Woodward, an SEO expert suggests that you should write at least 2 high-quality 2,500 word posts at least twice per month.
Learn about Evergreen Content
What is evergreen content?
Evergreen content is a type of content that targets topics that typically retain consistent interest over time.
Overall, all evergreen content shares three key features:
It focuses on timeless advice rather than specific or timely information. In other words, it delivers information almost everyone in your audience would care about at some point.

Such content also religiously matches the user intent.

It delivers broad but generic information about the topic.
What content types work as evergreen?
Various tutorials and how-tos. Much of the evergreen topics focus on learning how to do a particular task, after all.
Complete and ultimate guides. Evergreen content often targets a full breadth of information on a specific issue or topic.
Educational tips and advice, although not in the format of a tutorial. Again, this is because evergreen topics often have that educational element in them.
Listicles, revealing a complete set of steps, items, tools, etc., required to complete a task.
"Evergreen topics target common problems that people experience over and over again. Losing weight, saving money, earning more, finding a perfect job are some great examples of popular topics that never lose interest."
Pro-Tip: "When creating content that aims to remain relevant over time, you have to stay away from topics that are cool, hip, or trendy right now. Instead, you have to target information your target audience is continuously interested in."
The process of writing evergreen content starts with conducting keyword research. Be sure to read tip #4: "If you want to create evergreen content, make it a single page."
To write evergreen content, use a strategy (depicted below) called the 10x Content Strategy.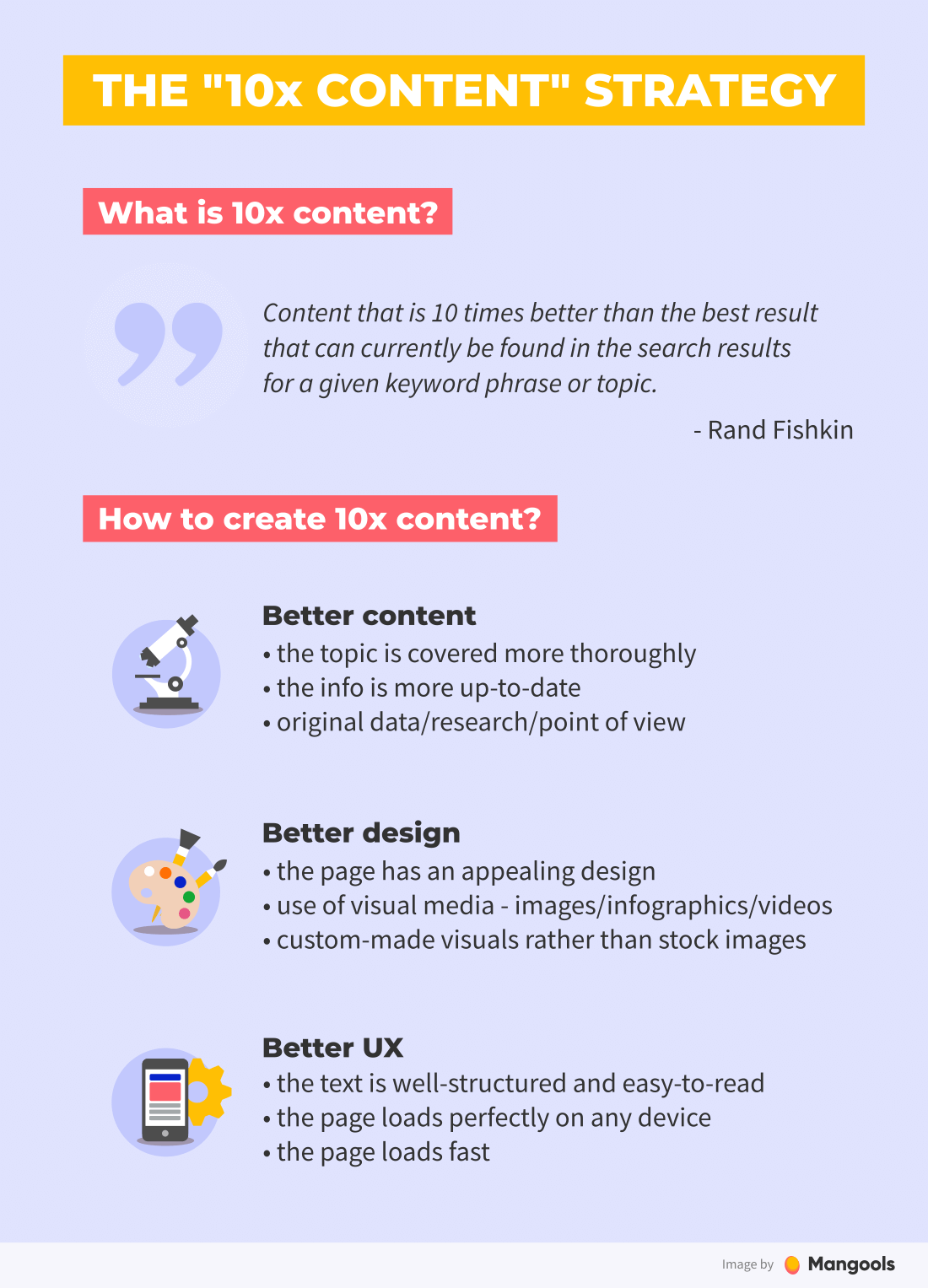 There are four rules to retain your content's Evergreen status:
Review and update the content regularly.
Add interactive elements if there aren't any (videos, charts, graphs, maps, etc.)
Keep building links "to" the Evergreen page (post).
Interlink the page (post) with any new relevant content that you publish (i.e. add your internal links).
How to fix your SEO errors to grow your site
What are the biggest myths and lies about SEO?
How to optimize existing content.
Take your SEO to the next level and increase your search traffic by as much as 12 times with three steps
Create quality content
Build relevant backlinks (see link building posts below)
Beginner's Guide to SEO Videos from Matthew Woodward
I want to learn SEO basics! Learn the basics of SEO and the strategy that the Hoth uses.
I've moved Link Building to Step 1 where it rightly belongs. Link building is a rudimentary skill that bloggers need to learn about and one of the best ways to do it is by creating great content.
Competition Analysis
This is something that I don't have too much experience with because it's time-consuming. So for this please refer to the post that I wrote with some help from SEO expert Neil Patel: 3 Steps to get 10,000 Visitors in 3 months. It's my goal to get an additional 10,000 visitors by the end of February by following the outlined steps.
Below is a video from CanIRank called Beyond Keyword Difficulty: Competitive Analysis for SEO. This video and the AI Program, CanIRank will help you to get higher rankings.
Here are a few more posts for you to look at Roadmaps for SEO
Conclusion
Thank you for coming to this post and I hope that you've been able to learn more about search engine optimization.
If you liked this post, please copy and paste the information below into one of your existing or upcoming posts as a backlink. Thank You.
What is SEO Strategy?
"A Roadmap is a step-by-step plan for executing your SEO strategy. Think of it like this: the SEO strategy is the "what" and the "why", whereas the SEO roadmap is the "how". The two go hand in hand to create a highly actionable set of tasks that have a high likelihood of achieving your SEO goals." This is truly the most ultimate roadmap that you'll find to learn SEO with already 300+ incoming links. The USRTLS will aid you in developing your SEO strategy (to develop the "what" and the "why").
10 Roadmaps depicting SEO
I'm adding 10 different variations of Roadmaps that I hope you'll like at least one of them to help build your SEO strategy. For now I've finished 9 of them and I'll add the remaining one which is is going to take me a little longer to make because I need to really fine tune the last images so that it turns out the way that I want.
If you liked this post, please take a look at some of these other posts that you'll enjoy:
PinArtwork: The blog post "How to get your Blog Noticed and Increase your Page Views" will provide pointers to get your blog noticed and to increase your page views. Because one of the most important goals that a blogger has is to get free traffic to their blog.
Boost your Website Relevancy by Bulking up on Thematic Content
Build your site architecture for optimal SEO
Understand what makes a good link
How to find the best keywords for SEO