Last Updated on January 5, 2022 by Scott Charleboix
Overview
January 1st, 2021 marks the sixth anniversary month of blogging (and begins starting to work to complete month #7). This post, Self-Reflection: Six Months of Blogging looks at the past as well as looking into the future to see what can lay ahead. I'm purposely publishing this blog post two weeks ahead of schedule so that I can update it in two weeks with the current stats (when January arrives).
Disclosure: This post contains affiliate links, which means if you purchase something through my link, I will earn a small commission. This does not affect the price you pay for the item. I only advertise products that I have used myself and would genuinely recommend.
A perplexing thing at the moment is one of my landing pages is having the effect of people subscribing as a user to my blog. I get automatic e-mail notifications but they don't contain enough information to track down the source.
It doesn't seem right to assume that they want to get e-mail notifications when new blog posts are written so I plan to simply write an email and explain that I am a new blogger and would like their help to pinpoint this odd situation.
I'm guessing that it's one of two landing pages. Either a program called PinArtwork Graphic Ease or an e-Book on my collective blog posts.
I have created a new program called PinArtwork Graphic Ease (P.A.G.E) that depicts how to make good graphics. The program is on my sidebar but it's currently not on my Pinterest board (i.e. the URL link in the main description). So that's one of the first things I've fixed.
My so called last month's increased web traffic was merely bots hitting the web page from a program I purchased called Xtraffic. It increased the traffic and that was it. It delivered increased page views but at a cost of $49 per month it's not worth it.
Blog's Upcoming things
I finally got around to taking the Pinterest Traffic Avalanche course. One of the best investments I've ever made from several of the Pinterest courses I've taken.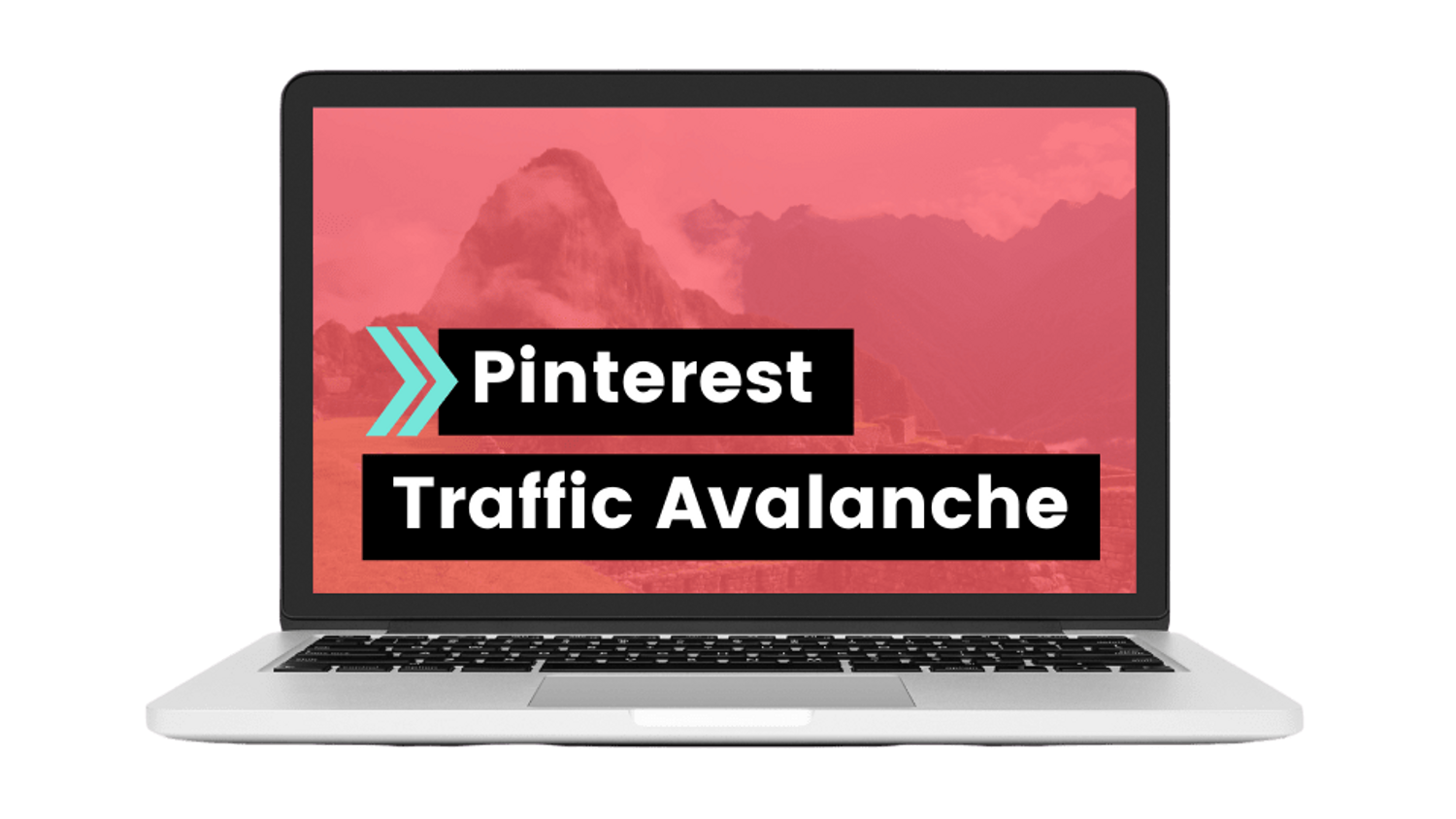 I've only updated two parts of the Blogging Series post that's in my Free Resources Library. I need to have the last two finished by the time I come around to completing my 7th month of blogging.
To-Do list item: Put all of the plug-ins that I use on the Free Resources Library page.
Less emphasis on Pinterest Group Boards
I was placing too much of an emphasis on Pinterest Group Boards.
What I'm proud about is that my Pinterest Impressions are doing very well. Shortly within a month or two, my total Pinterest Impressions for one pin might surpass 100,000. Right now it's nearly at 80,000. It started out like a ball of fire and then as fast as it skyrocketed it is slowly gaining attention a little at a time.
There's a post that I wrote about Pinterest Analytics for Breakthrough impressions and I'm going to stick to that method of Pinterest scheduling. If you want to grow your blog's traffic I highly suggest that you take a look at this post for some suggested pinning strategies.
At the moment I'm cranking out about 10 pins per day for my Motivational Quotes and Inspiration Board. I was hoping to have it completed before the end of the year which isn't going to happen. However, it should be done by the end of January 2021. This is my third best board. #1 is Blogtober and #2 is the Norman Rockwell paintings which have been bringing in lots of traffic.
#3 300 Motivational Quotes and Inspiration
Pinterest Challenge for January 2021
I challenge myself to pin regularly on Pinterest, in order to gain more blog traffic (and hopefully more subscribers).
Here's a summary of the Pinterest strategy that I'm using for the remainder of December and will continue to use in January 2021:
Pinning at least 50 times per day
25 miscellaneous pins from Tailwind to Pinterest boards.
The remainder through Pinterest:
10 through Motivation and Inspiration – this is on-going and will continue to mid or late January.
3 through Faith
10 new pins in Norman Rockwell paintings
Therefore, I'm creating approximately 23 fresh new pins per day.
Looking for 2 new pins to add to boards that are in the home feed.
Following people that have a blog similar to my niche.
By the numbers
As I mentioned earlier, I had nearly 700 followers, I'll plan on closely analyzing this information when it gets closer to July of 2021. That's a long way for now. Hopefully, with a new Pinterest account, I'll still be able to get at least 500 followers. I'll give myself another five months to grow my following and I can look at the stats in May 2021 to see if I'll be looking at 500 or 1,000 followers as initially planned for July 1st, 2021.
It appears that with 153 followers in December 2020 I should be able to reach my July 2021 goal of 500 – 1,000 followers. The number of followers is starting to grow more and more each day. Yippee!
| | | | | |
| --- | --- | --- | --- | --- |
| | July 2020 | 16 Oct 2020 | Nov 2020 | Dec 2020 |
| Pinterest Followers | 0 | 466 | 700 > 75 | 153 |
OUCH!
Using Tailwind to schedule pins
Because I've been flagged twice for spam and both instances was due in part to using Tailwind, I recommend using caution with Tailwind (i.e. don't pin from within Tailwind). Let the program work as it should to schedule the pins at the required times and intervals. And periodically shuffle your queue (at least daily or review your pins to ensure there aren't any back to back pins).
Tailwind is such a useful time-saver. I still like to pin manually when I find a pin on Pinterest and save it to another related board. But it's nice to know that when the weekend comes up or at night, I won't have to worry about ensuring that I'm meeting my regularly scheduled daily quota of pins.
Tailwind offers a free trial, but after that is used up, there is no free subscription option. You have to pay to sign up. It is not cheap – the annual plan cost me $119.88. There is also the option of a monthly plan for $15 per month. This has not paid off for me yet because I have only been focusing on my Pinterest strategy for a month, so my blog earnings have not dramatically increased. However, I think there is huge potential that this could pay off in the future. Based on my experience so far, I would recommend Tailwind to anyone who is serious about working on their Pinterest account to drive more traffic to their blog.
I've heard different stories about whether or not to use the SmartLoop feature on Tailwind. I'm old school and still like to do things the old-fashioned way. Personally, I won't be using this feature because I prefer to have new, pins for Pinterest. Relying on SmartLoop would circulate the same old pin time after time. One thing that you need to know and learn about Pinterest is that they want to have "fresh" new pins.
Tailwind has changed their use of Tribes to what is called Communities now. So you might still see some of the settings in Tailwind for different profiles as Tribes. Eventually, you'll see the switch from xyz Tribe to xyz Community.
Did it work?
In Nov/Dec, I noticed a marked improvement in the visitors to my blog and subscribers. Now I just need to get some information about what's the correct thing to do when people subscribe to the blog. I'll share that information with you when I find out.

Things I have learned during my six months as a blogger (that weren't mentioned earlier).
I've learned how to very effectively use analytics within Pinterest Business and look at top pins and top boards.
I've learned first-hand that Pinterest wants to have "fresh" images
My blogging achievements
These are things that I am proud to have achieved in 6 months:
Wrote and published more than 100 posts to cover mainly Pinterest and SEO.
Consistent posting usually one post every 2 – 3 days.
Doubled my Pinterest followers from 75 to 155.
Completed the Blogtober 2020 Challenge
Started the NoBloPoMo Challenge but didn't finish it. Na Ja (Oh well).
Started the Blogmas Challenge but I didn't finish that as my efforts now are on creating new pins instead of writing new posts.
Goals for my blog's seventh month
Continue working on the Motivational and Inspirational pins
Continue working on Faith pins
Continue working on Norman Rockwell pins
Goal of 5,000 pins and 1,000 repins by 1/26/2021. As of 12/17/2020, I'm already at 3,450 repins and 774 repins. At the rate of 50 new pins per day, I should have no problem reaching this goal.
Goal of 200 to 300 Pinterest followers by 1/26/2021. If 200-250 is reached by that time-frame, I'll be on track for 500 followers by July 1st, 2021. As of 12/17/2020, I'm at 155 so I'm relatively close.

Financial goals:
Earn money from my Affiliate programs (mainly Tailwind and Bluehost) on-going. I need to be more diligent in this arena. But right now without people subscribing I've gotten a little lax in this arena. So it'll require another look if I start getting some more subscribers.
Goals in a year from now
Strongly hoping for at least 500 to 1,000 Pinterest followers, July 1, 2021.
Overjoyed if I have at least 12 subscribers on the Blog.
Seeking for 15 fresh pins/day, hoping to have 10,000 pins / 500 repins.
How long have you been blogging for?
If you're a blogger, drop me a line (Bloggers helping Bloggers). I'm hoping to hear what kind of ideas you might have to collaborate to build each other's blog.
Related posts that you might want to read on my website:
Self-Reflection: How I actually got my first valuable 1,000 Pageviews