Last Updated on November 8, 2021 by scottkandh
In this post, Reviewing Rank Math's Content AI I'm writing about how I've liked using Rank Math's newest feature called Content AI to research keywords.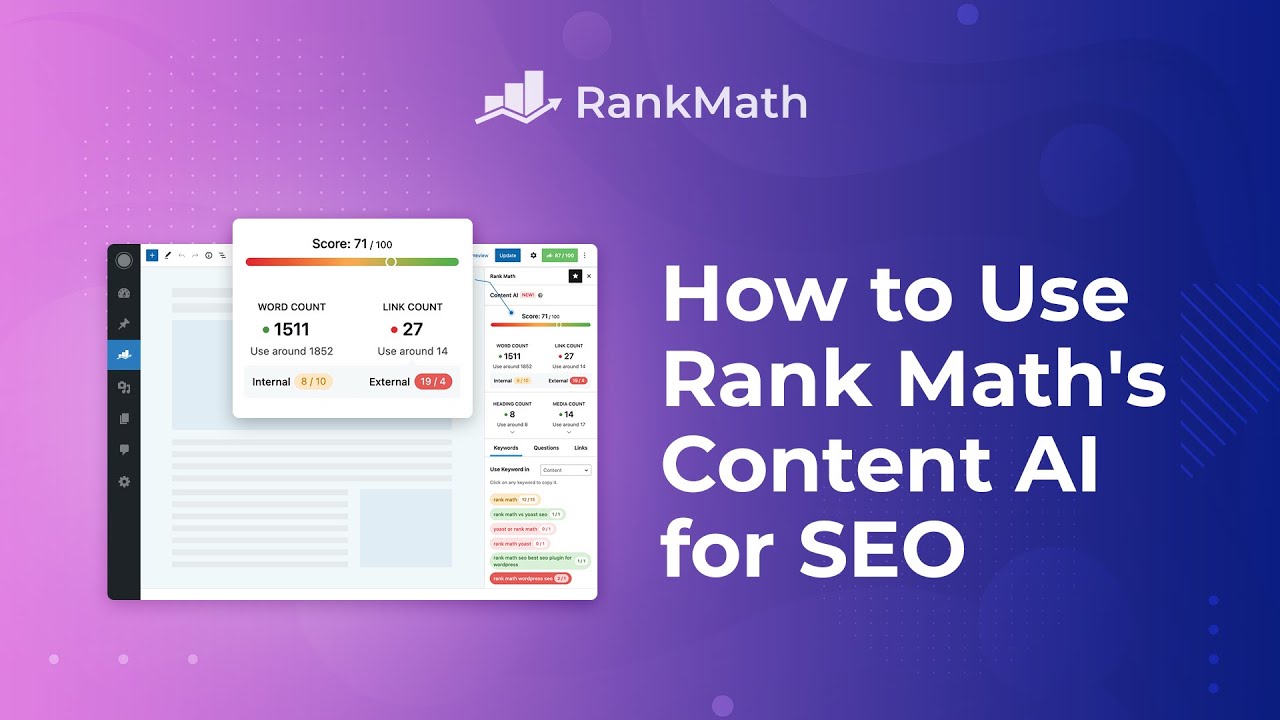 Reviewing Rank Math's Content AI
As I'm writing this post that discusses how to use Content AI I'm going to provide you with some screenshots from the program and how I use it to write this post and improve it's SEO score.
I started the post with not providing any other information that the basic content and haven't done anything to it.
The way that I systematically go through a post is to:
Add the Focus Keyword in Rank Math.
First, add the Meta Description to your post and
Secondly, add the title as a heading right before you introduce the topic to be discussed.
With adding the first three items discussed above, the SEO score has gone from an initial 10 to a 71.
Naturally when you start writing out the post you may not have enough words and this post isn't any different at this point, Rank Math is telling me that the current length of the post is 173 words long. And typically it recommends to consider using at least 600 words before you'll get the green check mark.
I like to write out the rest of the post before I add any links (external or internal) and then I review the post to see where I can naturally provide the internal links and the external links (related posts) usually goes at the end of the post (unless there's something that falls within the post itself that I would like to direct the reader's attention to a specific post).
So now your attention should turn to the Content AI to see what keywords it'll suggest (located to the right of focus keyword and to the left of the chart (Google Trends) button).
To begin using the Content AI feature requires that 2 things: 1) you must put in your Focus Keyword and 2) after you've put it in, you click on the blue Research Button.
Content AI will display all of the information that is reflected below and it all be one long scroll. For the sake of this post, I've broken it up into three parts (keep in mind that these are the Rank Math "suggestions". These are not the elements that you "must" use.
The Content AI Score
Use Keyword in: and
Related Keywords
In the 1st image (The Content AI Score) there are three tabs: Keywords, Questions, and Links. You'll want to toggle through the three tabs to see if there are any suggestions. For example, in this particular post, it was recommended to add a link to add about or mention Schema.
The suggested keywords to use for this particular post were (the only one I decided to use for this post was the 1st one).
Rank Math plugin
Schema pro vs rank math
Rank Math knowledge base
Rank Math vs Yoast and
Rank Math Review
The related keywords for this post were (and I decided not to use any of these keywords).
Rank Math API
Pro and Business
Learning Courses on the Internet
Single machine learning course
Machine learning course on
Used SEO minion jarvis
On the Internet ranked
To go back to your Rank Math plug-in you need to press the Back button located in the upper left hand corner.
Adding the suggested keyword and the suggested external link from the Content AI slightly improved the SEO Score from a 71 to a 79 and that's not including any images or internal links. For this particular post, there were no recommended questions for the researched keyword.
Summary, with the help of Rank Math's SEO Plug-in and it's new feature Content AI you can quickly get some extra keywords to help improve your keyword. But with the fact that Rank Math is using credits to build your research you'll need to be selective so that you don't too many of your credits right away. I've been able to raise the SEO score for this post from it's initial score of 10 to a 79 and it still has room for improvement by adding a few more Rank Math suggestions (that I won't go into detail on this post).
Recommended post
For more information about Rank Math's Content AI I would recommend that you read the Rank Math post called: How to Use Rank Math's Content AI (Artificial Intelligence) for SEO?
To learn more about SEO, please see my post called: The Ultimate Roadmap to Learn SEO.