Last Updated on January 5, 2022 by Scott Charleboix
In this post, Review of Ghostbusters Afterlife I'm going to provide some of favorite moments from the movie as it grows in popularity.

Review of Ghostbusters Afterlife
To begin with we can't forget that the success of this movie wouldn't have been possible if it weren't for the huge success of Ghostbusters in 1984. Missing from the photo below is Rick Moranis who I understand doesn't do acting any more.
It's been 37 since Ghostbusters first appeared. The all-female edition from 2016 was an okay movie but it didn't have the great music that this movie has and this movie makes up for it by providing a direct sequel to the first iconic Ghostbusters 1984 box office sensation.
Many of the stars that were in the 1984 version also make guest appearances in this movie. And Harold Ramis wasn't able to be in the movie because he died in real-life in 1984. But with the wonderful mastery of movie magic, the movie is able to bring back Egon Spengler.
Here's a list of the stars that make guest appearances in the movie and later on as time progresses I'll be able to add some pictures of their guest appearance from within the movie:
Dan Aykroyd
Bill Murray
Sigourney Weaver
Ernie Hudson and
Annie Potts.
I didn't catch this in the movie, but my guess is that it shows up early in the movie when they're entering the house or downstairs in Egon's basement.
Very early in the movie we begin to recognize that his granddaughter is a scientist like he was.
What you might not know about this movie is that the Director of Ghostbusters is Jason Reitman and his father was the Director of the first Ghostbusters movie.
Related: Ghostbusters: Afterlife Director Jason Reitman Says He Was 'Scared of This Project' But Eventually 'Developed the Courage' to Carry off His Father's Legacy
I think that if you're not a fan of Ghostbusters that there are going to be a few moments that you might not understand what's happening unless you've seen the first movie. Paul Rudd who appears in this new movie with one of the starring roles said:
(for example, if you didn't see the first one, you'll have no idea what's happened here, of course, I need to mention this is where I had to step out of the movie theater for a moment to use the bathroom).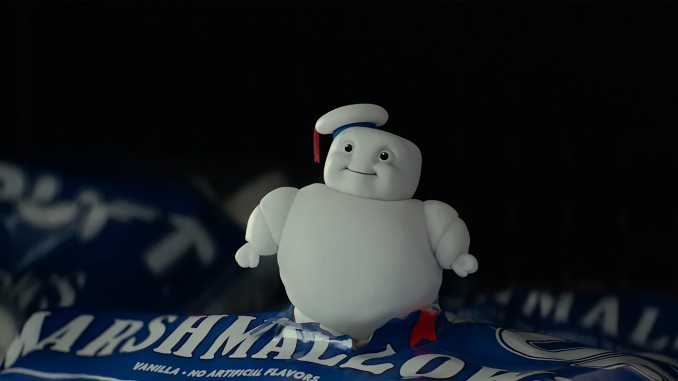 "If you're not a Ghostbusters fan yet, the new movie also stands alone, says Rudd. "You don't have to have history with the franchise to enjoy this movie. But there's something reassuring and magical because of all those connections back to the original. You do feel a certain level of gratification," he says."
But as I indicated I think that if you've seen the earlier movies you'll appreciate the movie that much more, especially with some of the music and the special effects like driving the car and grabbing the ghosts before they trap 'em. And in this movie, they've developed a great new way to trap the ghosts. I don't want to give it away so you have to see the movie to know what I'm talking about.
Movie Posters from Ghostbusters Afterlife
Here Egon's granddaughter Phoebe and her lab partner (new friend) Podcast try out the Ghostbusters special weapon for the very first time.
Slimer isn't in this movie, but he has a cousin who looks very much like him in the movie that they call Muncher (depicted below). One of my favorite moments is when Podcast decides to surprise Muncher by blowing on his new whistle thinking that he's going to scare the ghost.
The car has now been upgraded and comes with a couple of new features including a gunner's seat. Below is shot as they are talking to her during one of the scenes.
This scene is priceless when Paul Rudd (Gary Grooberson) discovers that the Ghostbuster's trap is not a replica, but it's the real thing.
The Ghostbusters (less Harold Ramis in this picture) take on the ghosts again.
This is not a still shot from the movie, it's from a post called How to Watch 'Ghostbusters: Afterlife': Is the New Sequel Streaming or in Theaters? (this is the top half of the movie poster at the top of this post).
Lastly, here's an image that captures some of the key moments from the movie.
I hope that if you like this post, you'll check out some of my other posts that I have spread throughout my website. The best way to navigate all of the posts on my website is by visiting my home page, PinArtwork.