Last Updated on May 26, 2022 by Scott Charleboix
In this post Mastering SEO in 2022 I'm discussing how to Learn SEO @ a Glance. I'm going to show you how you can Learn SEO @ a Glance with my A – Z of SEO in 2022 Infographic. It's a comprehensive SEO Infographic showing you the most important things to know about SEO. It's applicable for 2022 and years to come. It's the important ABC's of Learning SEO.
What led me to write this post is that I've got 113 SEO posts that discuss various ways for you to improve your SEO. A few days ago I was doing a competitive analysis and I was very surprised to find out that I didn't have any posts with "Learn SEO" as the focus keyword.
One of my last posts was called Guestographic examples and I had so much fund looking for good Infographics and Guestographics for that post that I wanted to repeat the process for this post as well.
This post contains affiliate links, I'll make a commission at no extra cost to you
should you click through and make a purchase.
Mastering SEO in 2022
I looked at several other A – Z SEO guides and I didn't want to cover every letter just to fill in the squares. That's why if there's no subject for a particular letter, I didn't see anything noteworthy to mention on that letter.
In addition to the Infographic that I made, we're also going to look at several other Infographics that discuss how to Learn SEO so that you'll have a whole bunch of Infographics at your beckon call that you'll quickly get a grasp and feel for SEO in no time.
I saw an old Infographic called A – Z of SEO in 2018 so I wanted to bring it up to date for 2022.

When you look at the Infographic that I created (A – Z of SEO in 2022 – coming up shortly) you'll notice that it doesn't have any graphics on there. In the post called Why Infographics is Good for SEO Infographics are intended to be "visual" tools. The reason that this graphic doesn't have any visuals is that it's full of too many points in order to provide any graphics.
It's been suggested that for "true" Infographics that the number of graphics is kept between the range of 7 – 10 graphics. Mine has 23 text items which makes it difficult to add any images because then the text would be covered up. My point is look at the other Infographics that make use of visual elements and focus on keeping your number of points down to a minimal number so that you can add them to your Infographic.
The recommended size for an Infographic is that it shouldn't exceed 1,000 x 1,800 pixels. Having too long of an Infographic you'll quickly lose the attention of your reader and why go through all the trouble and time to make an Infographic if they're not going to read it.
Here's an introduction to my new Infographic A – Z of SEO in 2022 – Learning SEO @ a Glance.
A – Ahrefs Webmaster Tools – owners of a website can get a free version of Ahrefs to monitor a majority of the applications that are within Ahrefs. Within the post Free Ahrefs to improve your SEO I've examined how you can get just as good results from Ahrefs in their free alternative program called Ahrefs Webmaster tools. That way you're saving yourself a bunch of money but getting some of the main benefits that Ahrefs a leading SEO report has to provide for your site's SEO overview and for free. In order to use this free tool you must be a website owner.
B – Backlinks – One of the most important things you can do for your site to improve your SEO is to get backlinks. Part 2 of the Ultimate SEO Roadmap to Learning SEO is entirely devoted to this subject
C – CanIRank – An Artificial Intelligence (AI) program that recommends suggestions to see how you can improve your posts in order to see if they'll rank on Google. There's a free version to use as well as a premium version that expands the capability to perform more searches per day.
For the purposes of online marketing, my blog PinArtwork SEO is relatively young and has only been around for slightly over 1 ½ years as you can see in the graph below which shows the Can I Rank dashboard and percentages for Overall, Content, Optimization, Authority, and Social. But the efforts to promote it through marketing I've only been using for a few months and it's slowly growing. When I first started in December 2021, my total was 27%.
The reason that I like this program is that you can see how your blog is growing from an online marketing perspective, so you know where to put your focus. In addition, you'll be able to compare your blog to your competitors to see how they're faring with their marketing.
E – E.A.T. – E.A.T. or sometimes referred to as E-A-T stands for Expertise, Authority, and Trustworthiness. For a Reader's Digest condensed version of E-A-T refer to the section I wrote in a post called How to get your Blog Noticed and Increase your Page Views and the link is Improve your EAT for Rankings.
F – Facebook Groups – A good way to promote your expertise is by being actively involved in Facebook Group discussions that are within your niche. Be mindful of the rules so that you're not self-promoting your blog, or you'll get banned from the Group or kicked out. I myself like to help people by providing links where I can help them by pointing them to my articles. But the Group administrators don't like that because they want people going to their blog for help. It's hard to refrain from not giving links to other people. If this applies to you, don't participate in the Group posts.
G – Guestographics – An excellent way to build backlinks for your blog. It's a combination of a guest blog with the inclusion of an Infographic that purposely points to your blog from another website.
To learn more about the Guestographic Method read the post called Easy Roadmap to Backlinks The Guestographic Method. It's a round-up post on the topic focusing on Guestographics that will improve your Domain Authority (DA) Score because it's an easy way to get backlinks to your site.
H – Holisitic SEO – I wrote a post called Holisitic SEO wrap up for new bloggers and within this post of Holisitic SEO Wrap Up for new bloggers I tried to bring all the elements together to highlight the salient points from my other SEO blog posts into one cohesive post and this was the final post for the blog series on mastering keyword research. It was the eleventh article I wrote about mastering keyword research strategy.
The main point of Holistic SEO which I'd like to bring up is that A Holistic SEO is looking at the overall big picture with the primary goal of building and maintaining the best website. What will come along naturally if your website has extremely high quality is a better ranking.
I – Infographics – Since a majority of this post is looking at Infographics for the purpose that you'll get to learn SEO, I hope that I don't have to dwell any more on this topic that has already been discussed.
K – Keyword Research Tools – If you want to rank #1 for Google posts, it's highly recommended to use a professional keyword research tool like the ones that are listed below:
Ubersuggest
SEMRush
Ahrefs
Keysearch
Here are the pros and cons of each of the four keyword research tools that I've just mentioned.
Pros and Cons of Professional Keyword Research SEO Tools
Ubersuggest
SEMRush
Ahrefs
Keysearch
Pro: Free and premium version.
Pro: Free and premium version.
Pro: Free and premium version.
Pro: Free and premium version.
Pro: Cheaper to use the premium version that is 90% less than competitors. Lifetime plan available for $290.00.
Con: Expensive to use monthly basis ~ 100/mo.
Con: Expensive to use monthly basis ~ 100/mo.
Pro: Shows Search Engine Keyword Suggestions when looking up keywords.
Pro: Shows the social traffic (Pinterest and Facebook) for an average of 10 posts per keyword.
Pro: One of the most affordable plans to use at $17/mo.
And the winner is Keysearch:
L – Link Building – Part 2 of the Ultimate SEO Roadmap to Learning SEO picks up with the 2nd process step of Learning SEO which is Link Building and focuses on growing your link building. Growing your Link Building.
M – Master Keys (5) of SEO – If you want to be an Expert of SEO it's necessary that you master the 5 Master Keys of SEO. This information is discussed in a post called How to become an SEO Expert.
N – "Natural" Links – When you're writing your posts you'll get more backlinks by writing so that your keywords are arranged in a natural order for human eyes (and aren't used for the purpose of solely improving your SEO, a topic called keyword stuffing).
O – Optimization – Learn how to optimize your post and your images with Rank Math. Please read the post called How to improve your Google ranking with Rank Math. Rank Math SEO plug-in is my favorite SEO Tool to help grow your keywords so that they soar to the top of Google rankings.
This post is about how to improve your Google ranking with Rank Math so that your search results show up higher in SERP results. SEO makes it possible for your website to be seen and I highly suggest that if you're reading this article, you're also probably interested in learning more about SEO so visit the Ultimate SEO Roadmap to Learning SEO post where I've outlined 10 process steps to learning SEO and have provided videos, links, and tips from other expert SEO bloggers for you.
From personal experience it can take a considerable amount of time to fully optimize your website which "generally" takes about a month or more.
P – Pillars of SEO (4 of them) – In a post called What are the 4 pillars of SEO? you need to use the four pillars of SEO in order to have an effective SEO strategy.
"In order to see real results from your SEO campaign, you need to make sure that you have spent sufficient time on each of the pillars of SEO" … "When trying to optimize your content to rank higher within search engine results, you can't go wrong by focusing on the four pillars of search engine optimization (SEO)" – Launch Site Boost.
These four pillars of SEO are also an integral part of the 5 Master Keys of SEO discussed in the post called How to become an SEO Expert.
R – Rank Math SEO Plug-in – The SEO plug-in that I highly recommend if you want to rank #1 in Google SERPs is Rank Math. Yoast is a good program, but it focuses on grammar and spelling whereas Rank Math puts its emphasis on improving your keywords. That's where you make the difference in ranking on Google.
S – SEO Audit – this is one of the first steps that you need to do in order to improve your SEO so that you know where you need to put your time and attention to improve your site's SEO. Otherwise you're basically spinning your wheels without a comprehensive written out detailed plan. The post called How to make a Good SEO Report provides instructions on how you can audit your own website and make an SEO report for yourself to improve your own SEO.
T – Technical SEO – One of the hardest elements of SEO to improve because it consists of so many factors. For this pillar of SEO the best place that I can recommend you to get started to improve your Technical SEO is within a post called 15 SEO Audit Tools sorted by category. There you'll find a variety of four categories: Cache, SEO Effectiveness, Keyword Research SEO Tools, and SEO plug-ins that are all meant to improve your Technical SEO (i.e., improving page-speed, optimizing images, updating plug-ins, etc.).
U – Ultimate SEO Roadmap to Learning SEO – This post teaches you the 10 process steps of learning SEO beginning with learning the SEO basics first that should be studied hard before moving to the other steps. This SEO Roadmap is very helpful to create an SEO Strategy for your blog. It provides the what you need to do for SEO but the How to do it lies within your hands to create your SEO strategy.
While you're there (on the create your SEO strategy post) I invite you to download the SEO Roadmap in PDF or Word format. And that way you'll be able to create your own SEO strategy with the template in hand that you can build upon to improve your own SEO.
NOTE: There's no correlation to the size of the segments within the doughnut. This is my first time making a graphic of this type. If you're interested in learning how to make a similar graphic like this one for your blog, drop me a comment and I'll e-mail you how to set up a chart like this one. Now that I know how to do it, I'm looking forward to making other graphics like this one using a doughnut chart. I've been wanting to make something like this for such a long time and it's so easy to make.
W – WPRocket Plug-in – a plug-in that's very helpful to improve the functionality, performance, and speed of your website. Don't forget that with the program you won't get the maximum benefit out of it, unless you optimize the WPRocket settings. The post called How to Improve your Blog's Performance and Page Speed highlights the WPRocket settings that you need to adjust.
Y – Yoast SEO Plug-in – I highly prefer Rank Math SEO over Yoast SEO. But it does have a lot of benefits to use this program first and then migrate over to Rank Math after you've built your initial website's site
structure. If you're more concerned with ranking, then you'd want to start right off with learning how to use Rank Math and don't mess with Yoast. The pros with Rank Math over Yoast SEO is that you get so many free benefits out of the free version of Rank Math than most of the programs that come with the premium version of Yoast that you have to pay for and costs more per year to renew.
For the remainder of the post, I'm providing Infographics to help you Learn SEO.
How to Learn SEO as a complete beginner
Andrei Prakharevich breaks down learning SEO into five (5) stages:
1). Get a website to practice SEO.
2). Find a good source of SEO information (i.e. this post)
3). Follow an SEO optimization plan (this part focuses on what I preached about earlier that you need to use the five master keys of SEO).
4). Make use of free SEO Tools (like Rank Math SEO).
5). Measure (track) your SEO results. In the post called 7 Ways for How to Measure your SEO I'll provide you with some of the best ways to measure your SEO. I'll also be providing you with SEO metrics and the SEO Tools to measure those important metrics.
A post called Introduction to SEO – Infographics does a good job of explaining why you should focus on SEO to grow your blog.
This appears to be an old post, Google doesn't reflect their exact volume per day but it's estimated that the number of Google searches (source is HubSpot) are:
63,000 searches every second
5.6 billion searches per day and
That's a whopping 2 trillion searches per year.
Let's dissect that Infographic and look at some of the sections within it, for example unless you rank in the top 3 search results your chances of getting clicked on are slimmer and slimmer.
It's estimated that only 60% of the people will click on one of the search results that show up in the top 3 SERPs. Moving on to the next page is more diminished because 3 out of 10 (30%) normally don't go beyond the first page. And less than 10% will go beyond the 2nd page.
What it boils down to that in order to be seen it's very important for your search to show at the top of the food chain.
Bottom Line: Search Engine Optimization (SEO) helps you to get your website #1 spot on Google in order to achieve more visitors.
In the next Infographic, Tips to Improve your Content Marketing and SEO e-learning Infographics I'd like to draw your attention to item #5 called "SEO should be the core component of content creation."
Another noteworthy item to make note of in this Infographic is item #4 "Choose metrics that are relevant and in keeping with your business goals." For more information that's relative to this topic, please visit the post called How to set SEO Goals.
It's a round up post focusing on setting your SEO Goals. In Step 2 of my post, Ultimate SEO Roadmap to Learning SEO one of the 10 process steps is Learn to Execute an SEO process and within that, there are: setting SEO Goals, Measuring SEO, Reporting SEO and SEO Process Management.
In addition, I want to put a lot of stress on what Ahrefs calls the SEO Goal Pyramid which is more than simply getting more traffic. It's the SMART way to set your SEO goals. This post will provide you with the SEO goals and objectives and provide SEO SMART goals examples.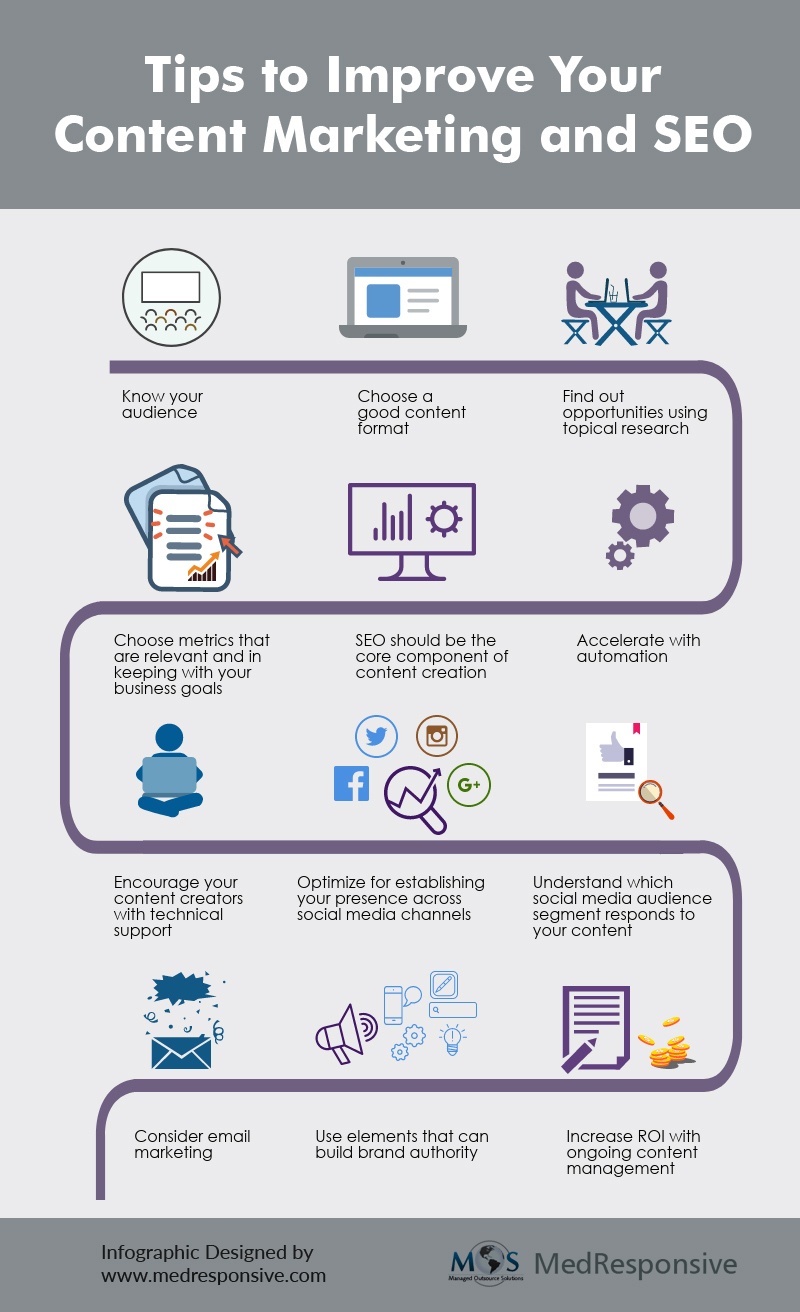 From Search Engine Journal is a post called Learn SEO: The 38 Best Blogs, Resources & Publications
I pointed out in the Ultimate SEO Roadmap to Learning SEO in Step 9 that you should read and keep up with SEO news. This is a good resource to keep up with SEO news blogs.
The next Infographic concentrates on the 5 SEO Strategies that you need to master and are discussed in the post called How to become an SEO Expert that you're seeing the Infographic here for the 1st time.
Below is an image called Learn SEO Fast: Your SEO Success Path and it has three (3) tiers of
1) Base, 2) Climb, and 3) Rank from Tribe SEO's homepage.
By following the path that's mentioned in this class from Tribe SEO you don't have to worry about developing an SEO strategy if you follow this outlined path and occasionally circle back to the beginning. Because a huge part of SEO is a continual on-going process of tweaking your website to ensure that you're getting the best ratings so you can increase your organic search traffic.
I was thinking that the course was free but that's not the case. Nonetheless, you can use this image to create your SEO Strategy and follow these 9 steps.
After all, we all start out on the same level when we begin our website, the Base.
After you've developed your blog and you start to have a following, you'll want to climb more so that you can increase your search traffic. You get there by analyzing your audience, determining who it is that your ideal targeted audience, and spend time to tweak your website so that crawlers can easily search your website (improved page-speed, breadcrumbs, internal links, etc.).
Then the last tier (Rank) is the ultimate goal of bloggers to climb to the top of the Google Mountain and proclaim that you have a post that ranks in the #1 SERP results and that you remain at top as King of the Mountain.
I'm nearly at the end of this post and I'm so excited to being sharing Infographics with you that discuss ways for you to learn SEO. I'll wrap up this post with two more Infographics.
By utilizing the easy SEO Tips that are mentioned within the Infographic below you're very likely to increase your website's traffic from a post called "Most Effective tips for SEO" from mag.corp.com.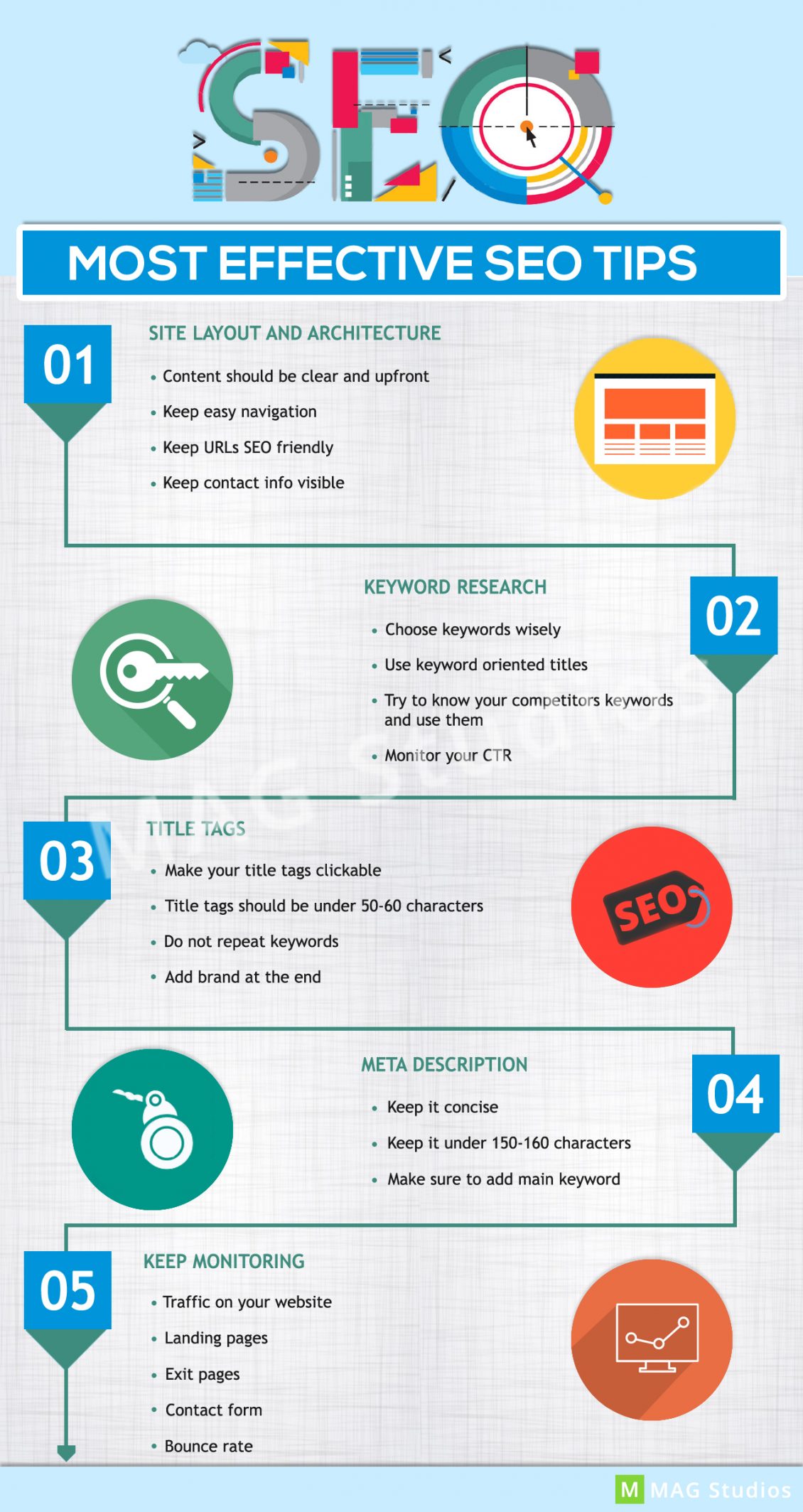 We covered that Infographic very quickly so that we can move on to the next one and be done with this post.
Conclusion
I hope that you've benefited from the Infographics that I've mentioned and that they're helpful in your journey to learn SEO.
The last Infographic I'll leave you with is from a post called: "Infographic: Why Content for SEO content fuels organic traffic". What I challenge you on your website to do is to embellish this advice in the area of branding: "Try to make a site that is so fantastic (that) you become an authority in your niche" – Matt Cutts.