Last Updated on November 17, 2021 by scottkandh
This post answers the question to "how long does it take to learn SEO?" by doing a round-up post of posts on the same subject.
How long does it take to learn SEO?
Before I even start researching any of the posts above to find the answer to what they suggest, I have to turn to myself and say: "Self, how long it take for you to learn SEO?" and Self answers that the SEO journey to capitalize on SEO started around the same time that I discovered Holistic SEO in late July, so I'm venturing to guess that the anticipated answer is going to be in the neighborhood of 3 1/2 months or so. After researching the information I was relatively close that the simple answer is 6 months or so.
Don't get me wrong, learning (and applying) SEO is a continual basis that rarely stops. If you want to bring traffic to your blog, with the recent decline in Pinterest now is the time for bloggers to devote their attention (if you haven't already) to learning how to use SEO.
If your wanting to be an SEO expert or for that matter are wanting to learn how to use SEO, I highly suggest that you visit my recent post called 10 Steps for the Ultimate Roadmap for Learning SEO. It's a one-stop roadmap to give you the basic layout for SEO from start to finish.
If you're reading this post about How long does it take to learn SEO chances are that you're wanting to know more about Search Engine Optimization. I've already mentioned earlier to you about my blog post called the 10 Steps for the Ultimate Roadmap for Learning SEO and it's laid out in 10 steps (arranged in tables) for you to learn a lot about SEO.
Just to give you an idea on the 1st table, I've copied and pasted it here for you to see. You'll be able to see all of the other tables if you open the post. The first table is called Learn the Basics.
In this table, Learn SEO Basics, this is the foundation where you begin to learn SEO from scratch. Also, here's a link to 50 SEO Blogs to improving your websites SEO performance.
"Reading and learning is the key to learning SEO and as SEO is a
fast-paced occupation it is well worth staying informed." – Learnimtactics.com
The table above will quickly familiarize you with some of the basics to learn SEO so that you'll be able to grasp the basics of SEO within the first 30 days or so.
One of the best responses I saw and I've edited it to reflect my blog is the statement below from a Reddit question about how long did it take you to learn SEO?
1y 3m 20d 8h 15min and 15seconds
1y 3m 20d 8h 15min and 16seconds
1y 3m 20d 8h 15min and 173seconds
"I'm still learning, and as long as SEO is important I always will be learning." This remains constant because there's a lot of variables with knowing how to use, implement, and improve your SEO and SEO is a continual on-going basis.
A similar response to the same Reddit question above was "1 year to have a good and professional understanding".
There's a wide spectrum of answers to this question which I've provided some of the responses below. I've just gotten started in writing this post and so far the statement below is one of the best ones to say that SEO takes time and practice and that it differs from person to person as to how much you plan to devote to SEO.
"There is no set "curiculum" or specific time that's required for anyone to learn SEO. Like every other specialization it takes time and it depends on how much time and practice you invest in it. One may spend an hour or so every day, another one may spend 10+ hours every day to read and practice.
You shouldn't bother with this. Just start learning and practicing and soon you'll have a grasp of where you stand within the wider SEO field. After you pick up the basics, then it's an ongoing process that never ends. SEO becomes more and more technical and it becomes even more nuanced and multifaceted all the time. New technologies emerge (voice search, AI, etc.) that indirectly affect SEO and we need to stay up to date."
"SEO is (a) daily learning Process. But you should know the Basics that will help you to understand, (for example) How google algorithm works. Backlinkco.com is the place i will suggest to every one!"
Purpalyn says that it takes about 6 months to learn SEO when you're first starting to learn it.
I want to summarize what Purpalyn has to write about in their response to answer the question, "How long does it take to learn SEO?"
As a beginner that's just starting to learn search engine optimization you'll go through 3 stages as you evolve from a beginner to becoming a professional SEO expert.
"The stages of learning can be summed in four areas:
1. Learning the basics of SEO
2. Learning SEO fundamentals & techniques
3. Learning how to do SEO practically
4. Learning how it actually works"
For a beginner to learn SEO, Purpalyn says that it takes 6 to 9 months to learn SEO if you're starting from scratch. The fundamentals of SEO don't take a long time, perhaps a month or so, but it's the "other" factors that take longer for you to master SEO during the 6 – 9 month time frame such as:
learning the techniques
using the techniques that you learned on your website
using basic SEO tools (like Rank Math SEO and other auditing SEO tools
and tracking your rank/traffic movements.
One of the best pieces of advice from Purpalyn about SEO is the info below:

"Why does it take much longer to learn how it (SEO) works?
It is because of the process of doing SEO and seeing the results. Two reasons for that. SEO is a step by step process. It is also a continuous process wherein you need to update, adjust, optimize & re-optimize."
Although Karen from TheOldSchool.com doesn't want to give a definitive answer for how long does it take to learn SEO, she states that more time is needed and she explains why (for the required time-frame for your SEO to kick-in).
"What timeframe should I set for my SEO to start working?

Generally, you should budget for at least six to 12 months' worth of work on your SEO strategy. You may see some early gains, but sustainable results will only be evident over time and with ongoing attention.

Why does it take so long to see SEO results?

In my experience, setting realistic expectations is pivotal to success."
The folks at SEMRush say: "It takes 1 – 3 months to learn the basics of SEO. The basics of search engine optimization can be understood and learnt within 3 months; however, the more advanced concepts can take anywhere from 6-18 months. This is provided you are consuming knowledge daily and learning from experts."
Here are some recommendations for you to start learning SEO faster:
"YouTube can get you started learning basic concepts. Rand Fishkin's Whiteboard Friday series is great for beginners. I would also recommend Neil Patel's blog. Other blog's include:
If you've already got a head start on SEO Brian Dean from Backlinko provides helpful information to create a strategy for your SEO. Where you'll "learn how the various elements of SEO (like content, promotion and branding) tie together. … this guide (pictured below) will give you a step-by-step action plan that you can follow to rank higher in Google.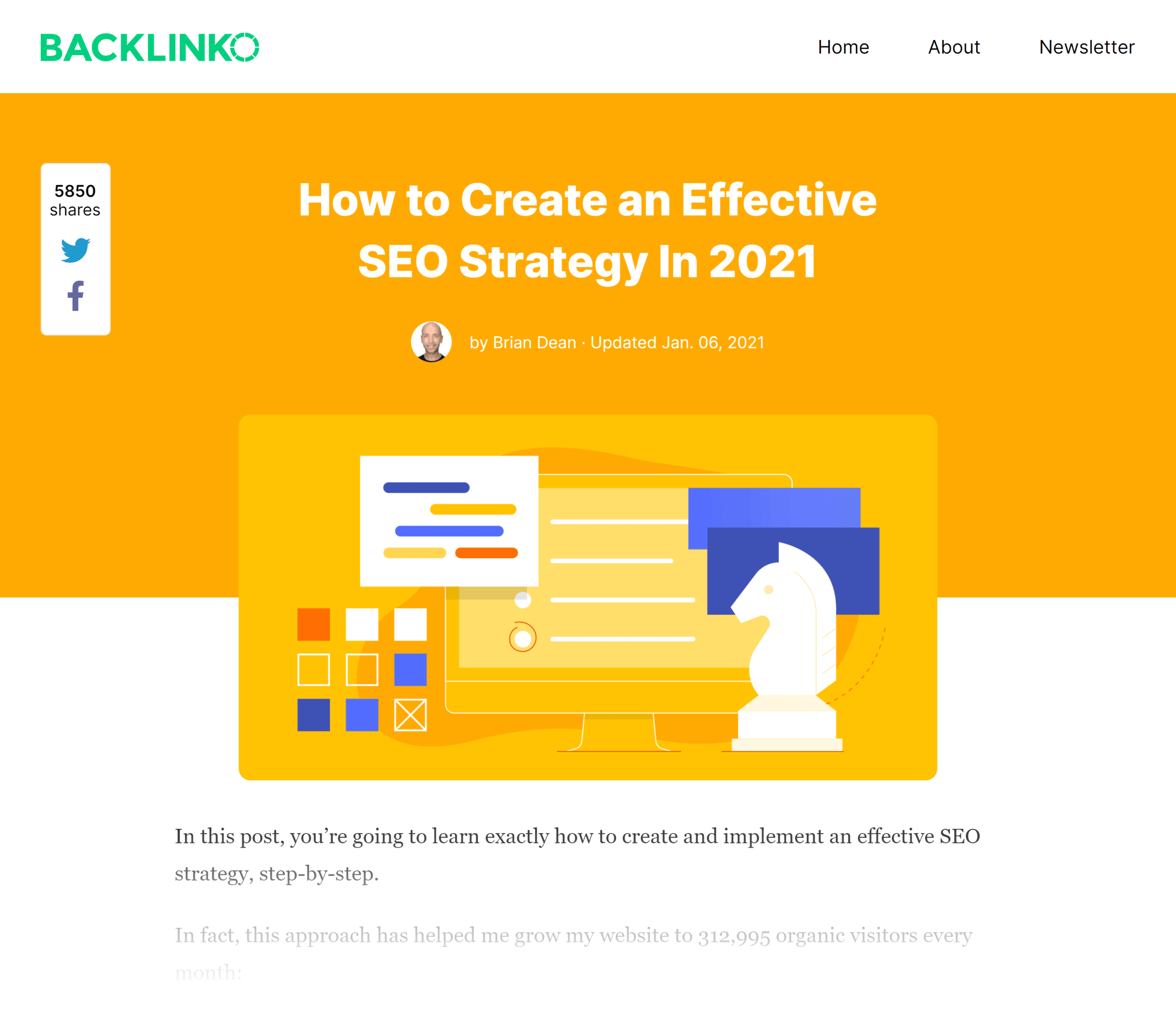 If you're wanting to learn SEO fast, there's a guide for you that includes everything you need to know for SEO which is especially useful for beginners called: "How Hard is to Learn SEO from Scratch? (Includes Learning Plan)"
ReliableSoft best sums up the question, how long will it take to learn SEO by saying: "It depends on the effort and time you will allocate."
On ReliableSoft there's an SEO Learning Plan for Beginners to learn SEO on your own following 7 steps which are very listed below. For the full details go to the link called: "How Hard is to Learn SEO from Scratch? (Includes Learning Plan)"
SEO Certifications and Courses
"One of the easiest and most effective ways to learn SEO from scratch is to enroll in an SEO Course.
As you have seen in the learning plan (listed) above, there are many SEO concepts to master, and many things to learn and having everything you need to know in one place can save you a lot of time and effort.
A good SEO course will teach you both the basics of SEO and the more advanced concepts. With relevant real-life examples and easy to follow instructions, it can make the learning process easier and faster.
SEO Certifications and Courses – This list includes the 10 best SEO courses you can enroll today. All courses come with an SEO certification that can prove very useful if you plan to pursue an SEO Career.
SEO Training Guide – A list of both free and paid resources that can help you get started with SEO." – ReliableSoft
Can you learn SEO on your own?
"The first thing to do is convince yourself that SEO is not hard. If others can do it, so can you. All it takes is the willingness to learn and time.
If you know nothing, don't get stressed, there is a lot to learn but with the right approach, you can get there in less than 6 months.
The most effective way to teach yourself SEO is to enroll in a good SEO Course." – ReliableSoft
Here's the advice from TutorProjects on learning SEO:
"I suggest that you create a blog and experiment with your newly acquired SEO expertise. Blogging is the most effective method of learning SEO."
How fast your able to learn SEO depends on several factors: "Learning and mastering SEO is largely dependent on the method through which you study. Are you a YouTube viewer? A guide reader? Are you a conference attendee? … the manner in which you absorb knowledge will dictate how long it takes to learn and master SEO." – Tutorprojects
What to do for successful SEO?
For successful SEO you need to "learn the difference between on-page and off-page SEO:
On-page SEO includes layout (for instance, the use of H1 and H2 tags), keyword placement, navigation, URLs, meta descriptions, and image descriptions or alt text. It goes, however, much beyond this limited number of variables, requiring significant study.
Off-page SEO encourages you to rely on the opinions of others about your site content. Off-page elements such as authoritative links to your site, brand mentions, and social media marketing all add to the off-page visibility of your website.
One of the best pieces of advice for successful SEO comes from CTRify
"There's no better resource I've found as a starting place to learn SEO than The Beginner's Guide to SEO from Moz. " Read the entire guide once and you'll know more than the people sending you those spam SEO emails every day.
Read it twice and you'll know more than a lot of the so-called SEO experts. If you only have the time to do one thing to learn SEO, reading the Moz guide is it."
What you need to know about SEO
"Before you start to worry about your site's position in the SERPS, it's important to remember that SEO is a long-term investment. It might take a few months to see any improvements, and when you do, it may feel like small progress."
"Be patient with the process. There's a lot of information available on how to optimize your site for search engines if you know where to look, but it can take time before the effects are noticeable. Be patient with the process and work towards making gradual improvements in order to get results."
"When learning SEO, it's important to remember that good things take time. SEO is not something that can be done overnight or in a week; it takes time and lots of patience. If you're willing to invest the time into it, though, SEO will pay dividends; with more people finding your content organically, you are likely to see an increase in traffic and conversions." – NetLocalSEO
I've been working with my SEO hard and heavy since late July of 2021. Gradually taking it in small bits of time, methodically making progress to optimize the posts so that they have the highest SEO score. I'm done with optimizing all of the posts that have scored in Rank Math with a score of fair and was able to knock down the number of "fair" posts from 79 down to a manageable 9, but the remaining 9 are pages with little or no information making it extremely hard to optimize.
The third approach I'm personally using is to review all of my posts yet once again to see what recommendations I might have missed in Rank Math to optimize that much more while at the same time I'm hoping to provide you with high-quality 2,500 word posts that will improve my keywords.
I really like what SEOMetricTools had to say about learning SEO which the common answers seem to be 1 month for learning the SEO basic principles and 6 months to increase your search rankings with SEO practices.
"Anyone can learn basic SEO principles in less than a month with enough dedication and practice.
As long as you are willing to learn and have the right tools, you can build a site with high search rankings in under six months."
Here's a huge laundry list of why you should consider investing your time in learning how to use SEO that was from extracted from SEOMetricTools. For all of the details read "their" post called How long does it take to learn SEO.
26 reasons why SEO is important for Business?
Generates More Traffic:
Increases Business Growth:
SEO Fosters Brand Awareness:
Bring in MORE Customers:
Track Your Website's Performance:
Enhance Your Personal Brand:
Save Time:
Save Money:
Brings in More Businesses:
Increases the Number of Your Leads:
Helps You Stay Ahead of the Game:
Increased Revenue:
Increases Brand Awareness:
Helps Businesses Grow:
SEO Helps You Communicate with Customers:
Helps Execute Marketing Campaigns:
Builds Your Brand:
Helps You Market Your Products or Services:
Makes You Look Professional:
Build Email List:
Helps You Get New Customers:
Helps Your Brand Be Found Easily:
Helps You Reduce Your Competition:
Helps You Create an Authority Site:
Provides an Opportunity to Increase Your Sales:
Gives You Brand Recognition:
I hope that you've liked this post, if so, please pin of the pins listed below to your relevant board. Thank You!