Last Updated on April 13, 2022 by Scott Charleboix
Q. What are some of the best free courses for bloggers?
A. 31 Free Courses for new and Intermediate Bloggers that you can take either online ("usually" presented in Teachable), e-mailed to you in a series, or you get a PDF file.
This post contains affiliate links, I'll make a commission at no extra cost to you
should you click through and make a purchase.
I've compiled this list by looking at 52 pins that some of them offered free courses. The list lays out the different 32 "free" courses" by the type of program that is the topic of discussion.
I'm sure that I missed one or two more courses that you might have been interested in, therefore, here's a link to "all" of the 52 pins on my Pinterest Board for Free Online Courses. Some of the pins have courses that are no longer available and they are not listed within this post. As of right now (August 26th, 2021) these free courses are available.
In this post, here's what you can expect for 31 free courses:
11 Blogging Courses
01 Grow Traffic
01 Branding/Niche
02 Grow your E-mail list/subscribers
03 Learn Graphic Design
01 Learn Legal Info
02 Monetizing your Blog
03 Pinterest Courses
05 SEO Courses
01 Traffic "and" Monetization Course
01 Web Design Course
I did the best I could to determine that the course is offered to you via online, e-mail, or is a PDF file. I hope that you'll appreciate that I took the time to determine how the free courses are offered, but don't hold me to it, if I messed up. I tried to keep the list limited to the courses that I've seen, recognized, and have taken in the last 14 months that I've been blogging.
I'm providing you with this long laundry list of free courses that you can take to help start, grow, or monetize your blog. After all, that's the mission of my website on PinArtwork.
One of the most common questions I see in Facebook Groups is: What can I recommend to a friend that's starting a blog for the best free course for them to learn about blogging? These will help get you pointed in the right direction, happy blogging.
Type "E-mail" is a course to build your e-mail subscribers.
Courses by Type
Below are screenshots from each of the "free" courses so that you have a quick overview.
Analytics
Google Analytics Academy – if you're into tracking numbers and stats for your blog, there are several free courses. I would strongly recommend at least taking the first course called Google Analytics for Beginners.
Blogging
Free Blogging Mini Course my course from PinArtwork – launch your blog within 7-days and if you already have a blog look at the section for growing your blog to bring it "more" traffic! There's even a small section on learning about SEO (especially keyword research) to get better Google rankings. And of course, there's also a section to teach you about Pinterest. One of these days I need to change the title of the course from free blogging mini course to something else because it offers so much valuable material.
The Blog Plan – from StartaMomBlog.com – this is an excellent place to go to get everything together laid out nicely for your blog so that you can develop your blogging game plan out over a 12-month period, and have weekly and monthly goals.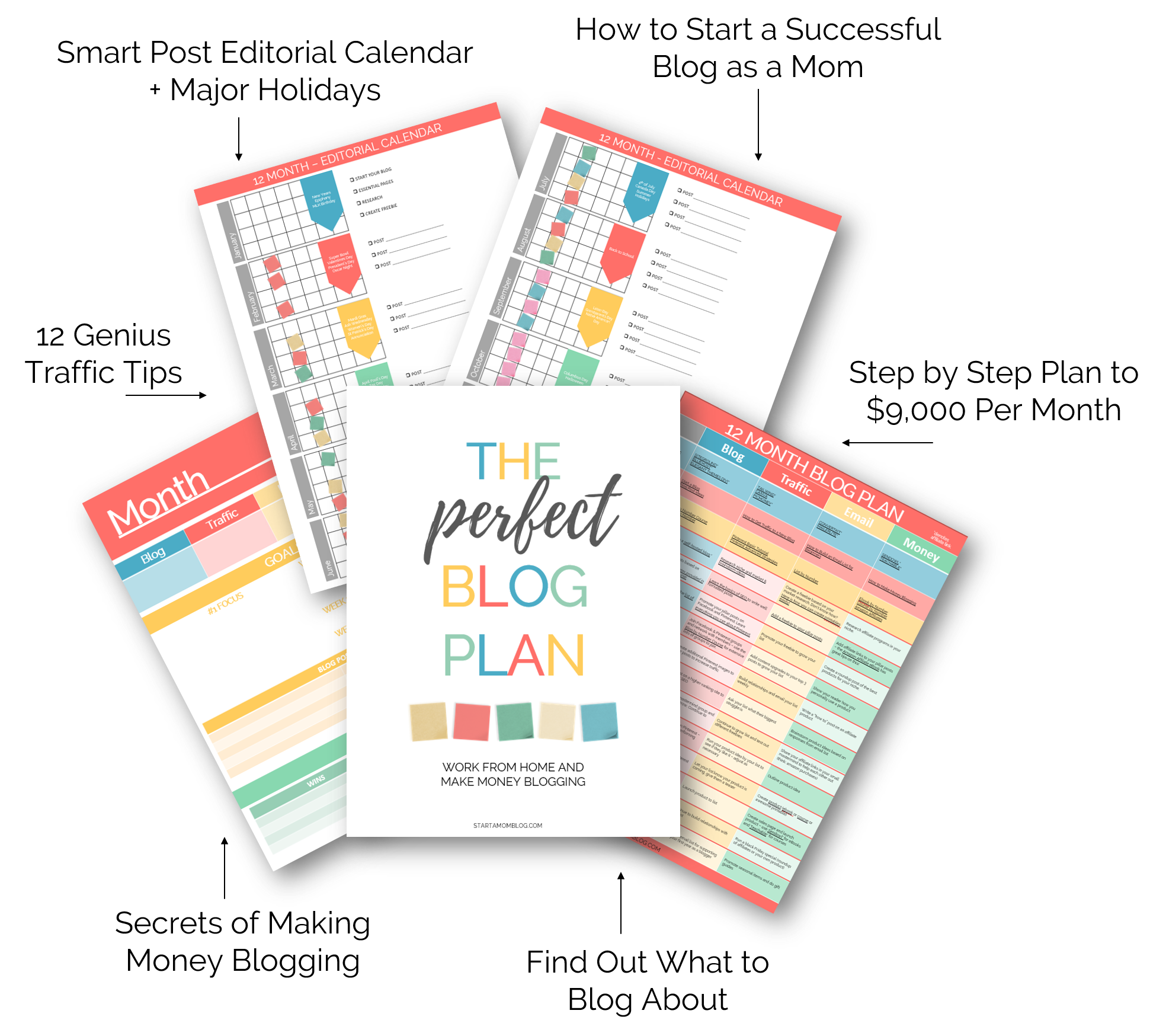 Free Blog Launch Blueprint from Moms Make Cents
Free Blog Traffic Bonus Guide from What Mommy Does
How to Start a Blog on WordPress by Her Paper Route
How to Start a Money Making Blog by Sweet and Simple Life
Build Your WordPress Blog in 5 Days Free Challenge – a five-day E-mail challenge to go from not knowing about WordPress to knowing it like a total pro!
Blogging Success – A 5-day Blogging E-mail course to learn about starting your own blog, everything you need to know about Pinterest, starting an e-mail list, making money as a blogger, and resources every blogger needs.
How to Start a Blog to Make Money
Worry Free WordPress – if you've invested a lot of time and money into your website and want to stop worrying about it, this 5-day E-mail Course will provide you with information to maintain your website and keep it's security intact.
Start a Blog – Free 5 Day Course by Full Circle Digital – Every day for 5 days you'll get an email with specific instructions on how to start a WordPress blog. You'll have a self-hosted blog set up and ready to go in just 5 days!
How to Start a Blog: Here's what the 5 days look like…
Day 1: Let's Start A Blog!
Choosing a Niche
Deciding on a domain name and registering your domain
Setting up WordPress hosting
Day 2: Getting Visual
Selecting a WordPress theme (template)
Installing Your WordPress theme
Image sizes
How to create a logo
Day 3: Dot Your I's and Cross Your T's
Setting up legal pages
Setting up your link structure
Setting up Google Analytics & Google Search Console (GSC)
Day 4: Connecting Your Social Channels
Securing your social profiles
Deciding on what social channel(s) to focus on
Set up simple social icons plugin
Day 5: Content Planning & Writing!
Who's your target audience?
Determine your core content pillars
Writing your about me page
How to generate blog post ideas
Tips for writing your first posts
Blog Traffic
Lena Gott's Free Traffic Bonus Guide
Branding/Niche
Niche Authority Hacker – Learn how to position yourself as the authority in your niche and develop your brand in this action-packed, self-paced online course from HerPaperRoute from Chelsea Clarke.
What You Will Learn
How To Brand Your Business In A Professional Manner
How To Build Your Niche Authority Via Actionable Steps
How To Create Brand Consistency
The 5 Components Of A Memorable Brand
Creating A Clear Blueprint To Reach Your Business Goals
Costly Branding Mistakes To Avoid
Growing your E-mail/Subscribers
How to Build Your Own Resource Library
This Free Training is for you if you want to learn:
The best tools to use for building your library so that it's well organized, easy to build, and fun for your soon to be subscribers to use.

Best practices for your library so that you are getting the most out of it – including all of the right information from subscribers so you can market to them better!

Mistakes a lot of business owners make that are completely avoidable – the kind that effect your business long term – yikes!
Email List for Newbies – Created an email strategy that helps you grow a targeted e-mail list to make you convert your sales.
Graphic Design
Free DIY Graphic Design Training by AppleCart Lane – free graphic design training — Need to create graphics for your online business, but have no idea what looks good or where to start?
Blog Graphics that Convert from Simplifying DIY Design – Kara is one of my favorite graphic design artists. You'll definitely want to check out her blog for ideas and ways for you to improve your blog.
Canva 2.0 Quick Start mini-course – This course is designed to give you a overview of some of the things you can do to get started in Canva. It includes a walkthrough of Canva, how to create lines and charts, how to design text for your digital projects, setting up templates for yourself or to sell, and using design elements to step up your designs.
Legal Info
Free Legal Course for Bloggers – Learn how to protect your blog legally and how to meet all the legal requirements!
Find out what's required by law from you as a blogger and kick-start your compliance to avoid lawsuits, formal complaints and hefty fines!
Enroll in 👉 LEGALLY BLOGS™ and start protecting yourself and your blog legally right now!
Monetizing
How to Make Your First Affiliate Sale – a five day video course.
Affiliate Marketing 101 Guide – to see this guide you'll need to scroll a little bit down the post until you see this graphic for you to enroll by clicking on get my free guide. The number one program that I recommend to you is ShareASale that has many different merchants for you to join their affiliate program.
Pinterest
Free Five-Day Pinterest Challenge from Moms Make Cents – this may look familiar because up above there's also a free blogging course that is offered with a similar format.
Pinterest for New Bloggers – enroll in this course to discover many different facets of Pinterest:
Why Pinterest can help your blog grow
Why is it so important to get a business Pinterest account and how to get one
How to make Pinterest trust you by claiming your website. Also what rich pins are and how to get them
Why Pinterest SEO is so important. How to find the right keywords and where to use them
What kind of boards you need to create and how to do so
How to create pins that convert
How to make your website Pinterest friendly
Everything you need to know about Pinterest group boards
How to get followers on Pinterest
How to save time and boost your traffic with a scheduler like Tailwind
Boost Your Blog Traffic with Pinterest – This FREE 5-day challenge course is perfect for new and intermediate bloggers that want to increase their blog traffic using Pinterest!
Pinterest Primer Course – this course is especially good for Pinterest beginners who want to get started correctly with their Pinterest account but don't know where to get started.
SEO
Adventures in SEO FREE Trial – Adventures in SEO Free Trial covers 7 free lessons for Pinterest, Google, and SEO Lessons
Free SEO e-mail Course – I get over 500,000 pageviews/month on my blog and the majority is SEO traffic. Let me show you how in my FREE course. I cover 10 Myths and Mistakes newer bloggers make and how to avoid them. Diversify your traffic. Don't just rely on social media. You never know when rules and regulations will change, or a social media will stop being important. Remember MySpace? Yes, exactly. Learn SEO.
Stupid Simple SEO Free Training – In this FREE SEO training, you'll discover ...
Why SEO is such a powerful way to explode your blog's traffic and income.
The secret to niching down (and why it can skyrocket your success with Google).
Everything you need to know about "domain authority" (and why it's so important for SEO).
The two things you must look for before choosing a keyword.
How to improve your content so that it ranks highly in Google.
Moz's SEO Learning Center – Looking for a place to learn SEO — for free? Whether you're a beginner, need advanced on-page tactics, or a refresher on building better traffic, this is your home to learn search engine optimization.
Traffic "and" Monetization
Traffic and monetization challenge from Lena Gott – Five days of simple tasks to increase your traffic & income!
You might be closer to significantly more traffic & income than you think. One additional skill or mindset shift can make the biggest difference to your bottom line!
DAY 1: An overly complicated traffic strategy confuses your readers. Learn how to SIMPLIFY and get more traffic as a result.
DAY 2: Find out how to easily implement INCOME PATHWAYS on your blog to increase income from the traffic you already have.
DAY 3: Your CALLS TO ACTION can make or break you in the online world. Learn what to say and what NOT to say to encourage your visitors to take action. You'll really love this one!
DAY 4: You can use keyword research to find HIDDEN NICHES that no one else is targeting. Low competition = more traffic for you! This is a super simple SEO concept that we will walk through step-by-step.
DAY 5: Today's lesson is all about the ONE METRIC you can track to increase your income. Knowing this number makes a world of difference to your income!
Web Design
Design Your Own Blog – a FREE 7-day course that is going to teach you to turn your blog into a beautiful online space in no time.
WHAT WILL YOU LEARN?
• A quick way of updating your blog layout without spending thousands of dollars (free Blogger + WordPress themes included)
• Setting up additional functionality on your blog
• Choosing the right colour palette
• Creating beautiful graphics for your social media
• Evaluating your current blog layout
• Secrets of creating beautiful visuals for your blog
+ more…
Conclusion:
But most importantly, you're going to see your blog turn into a professional, excellent website!
Respect your readers & start taking your blog design seriously!
I've provided you with many free courses to improve your blog. One of the courses that I really enjoyed the most and have benefited from their Facebook Group Freedom Bloggers is the Pinterest Traffic Avalanche Course (PTA). The free courses outlined in this post aren't going to give you all of the tools that you need to get ahead in the blogging game. So I've laid out a couple of tools that you'll want to check out that aren't free to give your blog a leg up.
This is an online course that I developed to improve your SEO. If I were really big into videos I'd likely being charging more for the course, but I'm camera shy. Most of the course is text; however, that's how I prefer to learn. The cost to enroll in my course PinArtwork's SEO Hurdle Course is $40.00. I hope you'll check it out to improve your blog's Search Engine Optimization (SEO).
If you've spent any time on my website you'll know that I'm a big fan of Pinterest. If you're a fan of Pinterest too and are wanting to grow your Pinterest followers or increase traffic to your blog. I highly suggest that you check out the paid program called Pinterest Traffic Avalanche Course.
If you like this post, please pin one of the pins, thank you very much.