Last Updated on January 2, 2022 by Scott Charleboix
Have you thought of building your 1st blog? Been wanting to grow your blog's traffic? If you've contemplated either one of these two first questions, maybe you should consider to take a 30-day Blog challenge. This blog post was initially the first one that I ever created in July of 2020.
If you're building your very 1st blog, I would highly encourage you to take a 30-day Blog Challenge which is explained in this post. I've revamped this post because at the time my blogging skills were below rudimentary. Also, I knew of Pinterest but didn't know how to design Pinterest pins. If you're new to blogging and have never heard of Pinterest, please be sure to check out Pinterest Overview for new bloggers.
"This post contains affiliate links, which means I will make a commission at no extra cost
to you should you click through and make a purchase."
In retrospect, it's been 6 months since this post was initially written. I'm astounded by the amount of information that a new blogger needs to learn and I still have a way to go because I've seen what other bloggers have on their website but I haven't been able to figure out the best size that I should use for media and text. For some odd reason, my page looks incredibly unprofessional when I try to use this option so it's going to require a lot more experimentation to get that part down pat. What makes me mad though is that I'm Microsoft Certified at the Expert level in Word, yet the rules that apply to Word don't pertain to WordPress (especially in the formatting department, i.e. left or centered text). More than likely, it's a simple matter that I need to use shift + Enter or some other weird combination to get the text positioned the way that I intend to have it displayed. It' looks fine on my screen in the editing. But once's it's published WordPress changes my formatting. I'd greatly like to know if someone has a course for the fundamentals of WordPress that helps cover that type of information, if so, please drop me a comment. Thank you.
If you want to learn about blogging please visit my blog or go to my Pinterest Board for a wealth of information that you can use to grow your own blog and to build your Pinterest followers. Pinterest is by far one of the best social platforms to bring traffic to your blog.
Pinterest Traffic Avalanche Course
For the record, when I wrote this I was consumed that in order to have a nice blog that I needed to have a considerable amount of Pinterest followers. Let me tell to you that your attention shouldn't be devoted to that aspect. The devotion of your time (if you're a blogger) should be spent to be a content creator and share fresh pins on Pinterest. I took several courses (free and paid) before I finally decided that it was time to take the Pinterest Traffic Avalanche Course to bring my blog to the level of where I wanted it to belong. Taking this course is by far one of the best decisions that I ever made. Myself and the Pinterest Traffic Avalanche Course cannot and will not guarantee that you'll never be marked for spam by Pinterest. But I can tell you that taking the course is the next thing best thing to buying a Pinterest Insurance policy to prevent your Pinterest account from being marked as spam. Not only will you learn about to prevent your account from being flagged you'll learn a lot of Pinterest strategies on how to properly place your Pinterest pins on the best respective board. My guess is that you'll find (like me) this may be one of the last courses you need for your Pinterest/Blogging journey.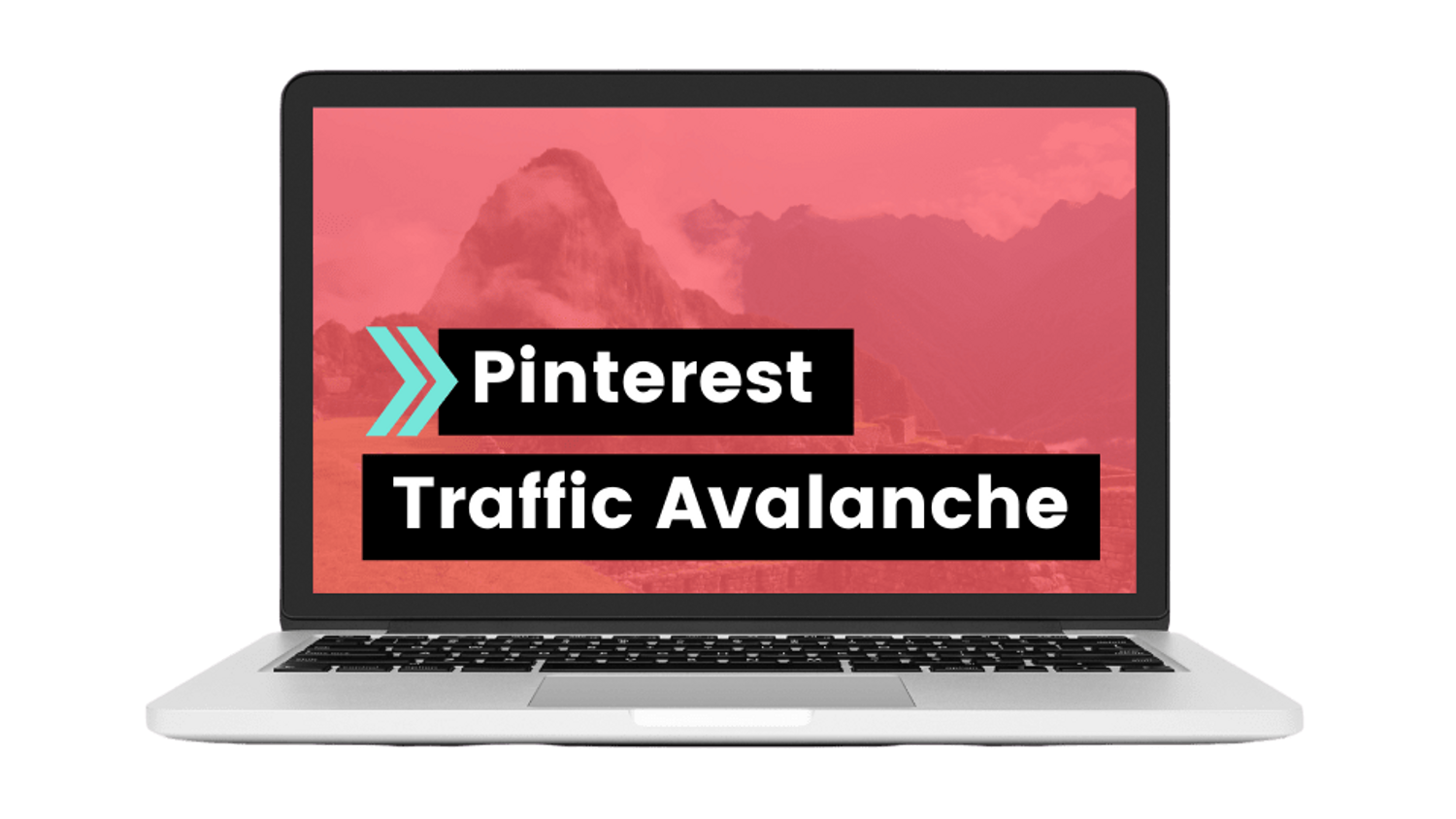 At one time, I went so far as to sign up for a program that would increase my web traffic. The traffic increased; however, only at the cost of "just" having increased traffic, a bad bounce rate, and very little interaction. I won't make that mistake again. As an online entrepreneur, we're trying to find out what works and what doesn't. The easiest thing to do is to follow the guidance of those that have come before us. However, what may work for one individual may not work for another. Therefore you still need to reinvent the proverbial wheel.
Part of my weekly regiment is to visit Facebook and partake in some of the group discussions that are going on. One of the common things that I've seen is people making a comment that they want to start a website but they aren't sure how to do it. My recommendation is to partake in the 30-day Blog Challenge that walks you through the basic steps of setting up a blog (at www.30dayblogchallenge.com).
The step-by-step procedures and videos (from the 30DBC) help to get you into a routine that is necessary to grow your blog and helps you to get into developing good blogging habits.
Not only does the 30 Day Blog Challenge provide you with the motivation to blog continuously for 30 days (a fundamental principle to help grow your blog) but it also shows you how to use your WordPress and suggests many of the plug-ins that you might need for your blog to make your blogging journey easier for you to navigate. I sincerely owe a lot of gratitude to the 30 Day Blog Challenge who helped me to develop my blog. While you are learning about the blogging fundamentals they are a good source of information to use when you encounter problems and would like some feedback or guidance. I sincerely hope that if you are a new blogger that you'll give them a whirl.
"A blog (a truncation of "weblog") is a discussion or informational website published on the World Wide Web consisting of discrete, often informal diary-style text entries (posts). Posts are typically displayed in reverse chronological order, so that the most recent post appears first, at the top of the web page.
From Wikipedia, the free encyclopedia


© PinArtwork – www.PinArtwork.com
All Rights Reserved
Copyright Notice
All the information on this checklist is published in good faith and for general information purpose only. PinArtwork does not make any warranties about the completeness, reliability, and accuracy of this information. Any action you take upon the information you find on this checklist is strictly at your own risk.

PinArtwork will not be liable for any losses and/or damages in connection with the use of this checklist. This copyright notice was generated with the help of the Disclaimer Generator.
"All Rights Reserved" means that the copyright owner (PinArtwork) is claiming all of his legal rights under copyright law. If anyone wants to copy any portion of this work, they'll have to contact the copyright owner first to get permission.
Blogging Checklist
Below is an updated checklist for new bloggers to use that are developing their first blog. My goal here is to give you a glimpse of all the things that you'll need to concentrate on in making your blog and to help point you in the right direction so that you can begin monetizing your blog ASAP.
My blog and my Pinterest board have a wealth of information that I hope you use to your advantage to build your website.
A checklist for developing and maintaining a blog. There are many factors associated with designing your blog and publishing it on the Internet. This checklist developed by PinArtwork will help you in that endeavor. It's not intended to cover every aspect of blogging, but it encompasses a majority of the items that you will need to research.
1. ☐ Setting up your blogging platform ( a domain)
☐ Bluehost ☐ 30 Day Blog Challenge * ☐ Siteground
Bluehost has a free domain name for 1st year and 1-click WordPress installed. If you're trying to save some bucks you might want to invest in Bluehost over Siteground which costs slightly more than Bluehost. These are just two of many different providers for your website. If you need help to start a blog, see #20.

* 30 Day Blog Challenge – one of many blogging courses highly recommended
2. ☐ Plug-ins – Please visit 25 Blogging Tools for WordPress on some suggested blogging tools and plug-ins for you to use
☐ All in One SEO * ☐ Yoast SEO Plug-in (pick one or the other)
☐ Akismet Anti-Spam * ☐ Constant Contact *
☐ Google Analytics * ☐ Milo-Tree Pop-up *
☐ PI Button *
* Minimum Suggested plug-ins

3. ☐ Widgets – Optin Monster (See Lead Magnet) and ☐ Testimonial Rotator

4. ☐ Commercial e-mail messaging programs
☐ Constant Contact
☐ ConvertKit
5. ☐ Themes – Find the perfect theme for your WordPress website.

6. ☐ Terms to know for WordPress
☐ Header ☐ Publish and Update
☐ Footer ☐ Categories

7. ☐ Knowing the difference between a post (blogs) and a page (constant)
8. ☐ Design a logo and pins (for Pinterest)
☐ Canva #1 Recommended program for designing pins
☐ Learning how to design viral pins

9. ☐ Purpose of your blog
☐ Utilize your experience, knowledge, and skills
10. ☐ Suggested pages on your blog to setup

☐ Home ☐ Disclaimer ☐ Privacy ☐ About Me
☐ Blogs (especially for static websites)
☐ Terms and Conditions ☐ Contact Me
11. ☐ Editing Comments
12. ☐ Branding your blog and your pins (for Pinterest)
☐ Importance of using Pinterest
13. ☐ Social Media
☐ Facebook ☐ Facebook Business page
☐ Facebook Groups ☐ Twitter ☐ Instagram

14. ☐ Tailwind (for Pinterest users) – if you're going to be a blogger, this is a worthwhile investment to manually schedule your pins.
Look at how your Pinterest boards can grow by viewing typical results for Pinterest users.
If you're on the edge of your seat and you're waiting to start your Tailwind trial, I'd like to welcome you to the Tailwind family.
Once you've had a chance to check out Tailwind be sure to visit Learning the Basics for how to use Tailwind. This handy walkthru familiarizes you with how to use Tailwind. However, since the time of writing the Tailwind post, there's been a number of changes to Tailwind. No longer called Tribes, (so that they are politically correct) Tribes are now referred to as a Comunity. One of the things that I didn't like about the old program is no longer apparent. The menus have changed and are now spread across the page instead of vertically down the page and the annoying theme that used to be there is no longer visible. Since there have been so many changes that will be one of my next upcoming new posts to get a handle on the updated Tailwind interface. The proposed name for the post is "Ultimate Guide to the new Tailwind." I'll update this post with the link once it's written.
If you are looking for some Communities to join, here's a link to some highly recommended Communities. NOTE: The old post still refers to them as Tribes.
One of the things that I need to mention is that Tailwind is one of the best ""PInterest approved" pinning scheduling programs for your Pinterest pins.
15. ☐ Pinterest Personal account ☐ Pinterest Business account
Claim your website (instructions)
16. ☐ Search the Internet for Blogging Plans
☐ How to Create a Bangin' Blog Business workbook
☐ Blogging Course Workbook – Allison Lindstrom
☐ Ultimate Pinterest Planning Calendar – Simple Pin Media
17. ☐ Lead Magnet
☐ 63 Point Checklist for Optin form
☐ Optin Monster and ☐ Constant Contact
18. ☐ Setting up a Domain E-mail
19. ☐ Forwarding E-mails
20. ☐ How to Start a blog
21. ☐ Monetize your Blog posts
22. ☐ SEO checklist items for WordPress Blogs
23. ☐ 200+ Free Pinterest Templates for bloggers
24. ☐ Free Stock Image websites
25. ☐ Effective ways to increase website traffic
26. ☐ How to set up a Tripwire
27. ☐ What's the difference between a Landing page and a Lead Magnet?
28. ☐ Top 10 Questions everyone working with Pinterest should know how to answer.
PinArtwork Blogger Pinterest Boards
I'm not providing a link to each and every Pinterest Board that I have. It's my hope that the boards provided below will help you find answers to questions that you might be seeking for your blog or Pinterest account. Therefore, I'm providing boards that are helpful to grow your blog, monetize your blog, start your blog, pertain to Search Engine Optimization, (SEO) or creating viral Pinterest pins.
Related relevant posts on my website:
SEO Checklist items for WordPress blogs
Blogging Basic Series – You need to know useful checklist
© PinArtwork – https://PinArtwork.com