Last Updated on February 28, 2021 by scottkandh
This blog post will provide you with 20 Steps to successfully growing your Blog from the start of its inception to growing your blog with the help of Pinterest.
"This post contains affiliate links, which means I will make a commission at no extra cost to you should you click through and make a purchase."
For the sake of discussion let's say that you just created your blog and you haven't used Pinterest ever before. You've heard from blogging that other bloggers are using Pinterest to grow their blogs and you'd like to do the same. This series of sequential steps will help you to examine your blog to start using Pinterest to grow your blog.
Step 1: Examine your niche
This is where it all starts at the core of your blog. What's the purpose of your blog so that you can hone in on your blog's subject expertise.
Questions that you need to ask yourself (that pertain to your niche) are:
a. What are your passions?
b. What do you like to write about the most that you can keep churning out high quality posts to continue bringing traffic to your blog?
c. An easy way to help identify your niche is what can you talk about endlessly for hours and hours.
d. If you start trying to combine too many things together, you'll have a very hard time to define your niche and you won't be able to narrow into focusing your central theme. If you insist on talking about having a lot of topics you are better off on creating a lifestyle blog.
The link below (in the picture) does a very good job of explaining 15 various types of Lifestyle blogs. Jump down to the part that starts off with:
"Most personal blogs started in the last few years are hobby blogs, written mainly for enjoyment and have a small following. Few make the jump into income generation. Those that do tend to focus on a niche."
Because there's really no official definition on what constitutes a lifestyle blog. But what the lifestyle blogs seem to have in common is this:
"It may seem that a lifestyle blog is about your life, but at best it's about your interests, with personal views and thoughts sprinkled on top. Little pieces and glimpses of your life scattered like hundreds and thousands adding color to information and activity posts."
https://simplyhatch.com/what-is-a-lifestyle-blog/
Step 2: Determine if your blog is going to be a niche blog or lifestyle blog.
Examine your blog's niche from the information provided in Step 1 and determine if your blog is going to be a niche blog (very focused on one subject) or a lifestyle blog (many topics rolled into one based on your life's experiences).
As alluded to earlier with this statement: "Most personal blogs started in the last few years are hobby blogs, written mainly for enjoyment and have a small following. Few make the jump into income generation. Those that do tend to focus on a niche."
If the goal for your blog is to be profitable and to make income lean in the direction of a niche blog (specific to a narrow subject).
Conversely, if you'd like to blog and share your life's experience create a lifestyle blog.
There's also another consideration (in addition to a lifestyle blog) that of I've seen which are:
Fitness Blog
Health Blog
Hobby Blog
Mom (Mommy) Blog
Running Blog
If you'd like help in setting up one of these types of blogs, look for that particular pin in How to Start a blog.
I've created a separate Pinterest board for How to Start a Travel Blog and How to Start a Lifestyle Blog because there are a few more pins for those types of blogs.
Step 3: Add your new domain
I can't leave out this step because there's a possibility that you know that you want to set up a blog but you haven't set it up yet. If you've already set up your blog, you can skip steps 3 and 4; however, for those that haven't, please continue reading.
Go to my post: Creating a new website – adding a new domain and follow that information for Part One of two parts.
Part One: Creating a new website – adding a new domain focuses on setting up the website, creating the new domain, and registering it so that your the owner of the domain and website.
Step 4: Set up your blog
Go to my post, and follow the instructions for Part Two.
Part Two: (How to set up your WordPress from scratch) concentrates on adding your plug-ins, selecting a new theme, and the difference between a post and a page.
Step 5: Build your e-mail list
Before we start looking at Pinterest (my favorite subject) there are a couple of steps that I don't want you to miss for your blog. Build your e-mail list with the help of ConvertKit. With ConvertKit you'll be able to make landing pages and/or forms to build your subscribers.
Step 6: Monetize your blog
If you want to make money with your blog, there are two predominant ways to monetize your blog.
Displaying Ads: You can signup for Google AdSense. Although most people I've heard don't make much (if any) and lean into the direction of using Affiliate Marketing.

Affiliate Marketing: The number one network to checkout is called Shareasale. There you'll be able to find a whole bunch of affiliate networks that you can join with. If you're going to be blogging, I'd highly suggest Tailwind at the top of your list. Affiliate marketing is where you get paid by suggesting to people to visit the site and you get paid a slight compensation for your referral. If you use affiliate marketing, you'll need to ensure that you post a disclaimer readily identifiable at the top of the post/page.
Step 7: Grow your traffic
Now it's time that we've finally come to my favorite topic of Pinterest. With the aid of social media programs like Pinterest and Facebook, you can grow your blog. This blog post will provide you with nearly everything you need to know about Pinterest – Top 10 questions everyone working with Pinterest should know how to answer.
Step 8: Envision a successful business!
I copied this information from BY REBECHIJ entitled: HOW TO START A BLOG + mindset for business. Because it reminded me that in order to be successful you need to envision it! – an important element to succeed.
ENVISION IT
"Have a mindset that reminds you – everything is possible. The daily success routine that I do now for my blog is to intentionally feel successful and visualize traffic growing, sales coming in.

Envision making money, envision that you deserve it. If you want a successful blog, you really do have to see it first in your mind.

Even if you don't know how it's going to be successful, you just have to keep seeing it doing well in your mind and you will make it, guaranteed."

By Rebechij
Step 9: Brand your website
Branding your website is something to make your blog stand apart from the crowd of other bloggers. The more distinct that you can make your blog the more that you will be able to entice other people to keep coming back to your blog. One of the ways to brand your website is to add a color palette to make it distinguishable.
Step 10: Brand your Pinterest
Branding your Pinterest refers to a few things that you can do on Pinterest
For example:
Board Covers – the pin that gives an overview of your Board.
Very descriptive descriptions for your boards.
At least 10 pins per Pinterest board.
This is a personal preference – stay away from using sections on Pinterest. They are okay for your secret boards. But don't use them for other boards. For example, you can't publish pins to sections within Pinterest.
For more pins related to branding, please visit my Pinterest board: Color Palettes.
Step 11: Get a Tailwind account
This post: Ultimate Guide for using the improved Tailwind explains how to use the new version of Tailwind – Tailwind has changed from using Tribes to using Communities. The reason that you want to use Tailwind is it's a scheduling program that you can forecast your pins to have them pin unattended.
Step 12: Take the Pinterest Traffic Avalanche Course
Pro Tip: When I first started using Tailwind I was pushing pins to duplicate boards. I didn't realize that is a Pinterest no-no (read the fine print of the Community Guidelines in Pinterest). It can end up getting your Pinterest account flagged for spam. If you are a blogger and you would like to take your Pinterest to the next level, I highly suggest that you invest in the course called Pinterest Traffic Avalanche Course. It's like having an insurance policy for Pinterest.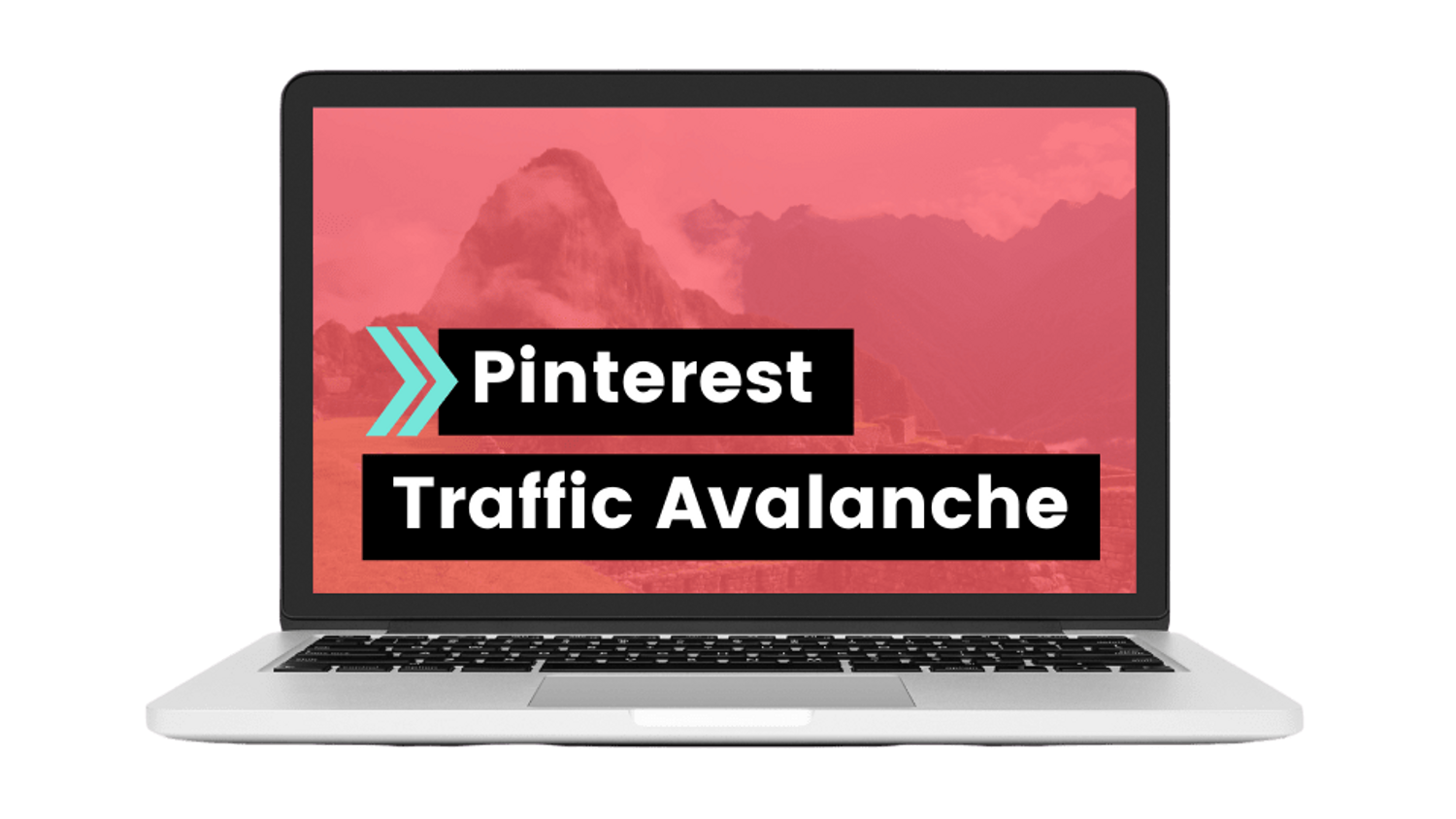 Step 13: Learn how to design Pinterest Pins
One of the most distinguishable programs to make Pinterest pins is Canva. One of my favorite blogs that I highly encourage you to check out is Simplifying DIY Design. The designer, Kara, is "a Certified graphic designer + full-time blogger that specializes in marketing through jump-off-the-screen designs! Templates are her JAM and her passion is to create design tools and systems that you can use to implement your way to success in your digital business!" Her designs are spectacular.
If you still need an extra hand on learning what makes a good Pinterest image. Subscribe to my blog (by clicking on the link or graphic below) and you'll be provided with a workbook PinArtwork Graphic Ease to help make viral pins.
For more creative ideas to make Pinterest pins please visit my Pinterest Board – Creative Image Tips.
Step 14: Study "viral" pins
To help you understand what constitutes a viral pin. It's much easier for you to look at these two posts that together depict over 70 viral pins.
Step 15: Learn how to create "viral" pins
In step 14 above, you examined some viral pins. Now you can learn how to create your own viral pin.
Step 16: Promote your blog content
How to plan marketing content for your blog. Once you publish a blog post, the remaining 50% of your job is to market the material to bring traffic to your blog.
There are one of two ways for me to share with you how to promote the contents of your blog:
2. Visit my Pinterest board entitled: Blog Content.
One other suggestion to think about for your "upcoming blog content" is to check out my post: How to make a year's worth of posts for your blog post headlines.
Step 17: Grow your Pinterest followers
The blog post below examines 10 tools that are helpful to "build" your Pinterest Followers. There are a considerable amount more plug-ins but as I mentioned before, the purpose for these plug-ins/programs (on the hyperlinked post) is to help grow your Pinterest followers.
Step 18: Don't make any of these 10 common blogging Mistakes
This blog post talks about 10 common mistakes made by new bloggers and how to correct them.
Step 19: Examine your blogging skills/programs
Running a blog is no easy task and there are a number of skills and programs that you need in your corner if you want to bring your blog to the top in blogging. This post highlights 20 necessary skills and/or programs that will help your blog.
Step 20: Examine the 10 Commandments of Pinterest
Please look at the post: How to triple your Pinterest Impressions that shows the 10 Commandments of Pinterest and five (5) elements to triple your Pinterest Impressions:
I hope that you have found these 20 steps to be beneficial to grow your blog. If so, please drop me a comment and let me know which step you liked and why. Thank You.
Related posts:
What you can learn from the Free Blog Traffic Challenge.
10 Useful Tools for growing Pinterest Followers
The Ultimate Guide to making Blog Graphics – step by step
Tailwind Tribes (now called Tailwind Communities)
If you liked this post, please pin the image below. Thank you.