Last Updated on January 2, 2022 by Scott Charleboix
Running a blog is no easy task and there are a number of skills and programs that you need in your corner if you want to bring your blog to the top in blogging. This post 20 ways to take your blog to the Top in Blogging highlights 20 necessary skills and/or programs that will help your blog.
20 ways to take your blog to the Top in Blogging
Update, 10/14/21: The suggestions in this post, 20 ways to take your blog to the Top in Blogging were written in no particular order. Therefore, I'd like to bring to your attention one of the most important suggestions from this blog post that you will want to take away from is item #15 pertaining to Search Engine Optimization (SEO). If you truly want to take your blog to the top I highly suggest that you switch to Rank Math SEO. Go with at least the free version and I'm convinced that once you start discovering how beneficial this program is for your SEO you'll want to buy the Pro version which cost less than it's primary competitor Yoast SEO.
By utilizing all of the suggestions in this post, 20 ways to take your blog to the Top in Blogging especially suggestion #15 which I want to stress the importance of it, by repeating it again loud and clear, you'll hopefully grow your blog's traffic. See the picture depicted below (14 programs to run an SEO Audit) to see how improving my SEO has helped my traffic and could help yours too.
This plug-in is essential for you to make a Tripwire. A tripwire is a process created by bloggers to entice people to buy one of your other products while they are still looking at your freebie offers and might be enticed to buy something from you. Check out this post, A checklist to make a Tripwire for your blog that makes it easier for you to set up your first Tripwire and begin to start making money on your blog.


7. Easy Table of Contents

This is an especially useful program that all you need to do is to load the plug-in and then for all intents and purposes your done. The only remaining thing to do is to add headings in your posts and pages. Once you publish the post or page the table of contents will be added automatically to the post/page (you won't be able to see it in the edit mode). This will allow your users to quickly drop down to the subject that they would like to see and adds links to your headings.

I suggest that you periodically check your old posts to ensure that they're updated from time to time. One of the most important things to do is to review them to add more links to your other posts that are performing well.


8. Facebook

Facebook is a social media program for you to help get the word out on your blog. There are a lot of Facebook Groups that will permit you to publish your posts; however, you'll need to look closely at the rules when you join to see what they will or won't allow. A majority of the Facebook Groups don't permit self-promotion, but there are one or two sparingly Groups that aren't that strict.


9. Finding your Blog's Niche
One of the first things you need to do when you set up your blog is to determine what is your niche. A niche is the expertise of the subject that you are going to be blogging on for your posts. My niche for example is Pinterest and I've narrowed down the focus to SEO for your blog, growing your blog, starting a blog, or monetizing your blog.


10. Goal Setting

Develop a commitment to setting goals and objectives with SMARTER goals by shooting for the moon. These are ways to successfully reach your goals, and highlight the importance of setting goals not as expectations but as possibilities. For an explanation on SMARTER Goals, refer to my blog post: SMART Goals examples.


11. Grammarly
If you want people to think that you are a professional blogger, this free online program is a lifesaver. Not only does it provide information on spelling mistakes it also notices punctuation errors. This is a must-have utility if you're a blogger. I rely heavily on this program to double-check my punctuation.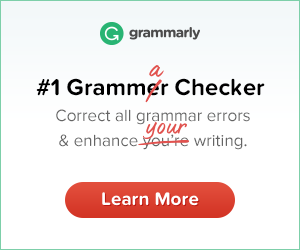 12. Infographics
Infographics are a great way for you to extract key information from your blog post and they substantially increase your blog traffic. An infographic is much like a normal Pinterest pin but due to the fact that it normally contains more information (in the form of graphics and text) the size is larger than a normal pin. If you would like to learn how to make an Infographic in 5 Steps you can visit this guide (in the link, highlighted to the left).

One infographic that I really like to grow your blog is the one pictured below with the steps to implement a 12-month blog plan. I like it so much that it has just inspired me to take the items from this post to make a new Infographic to promote this blog post with all of it's suggestions.
13. Pinterest Group Boards
What I would suggest to you is pin information from various Pinterest Group Boards into your Pinterest board. When you're viewing the pins, take a look to see if it's being followed, and follow the pin if it's within your niche. This grows your Pinterest boards as well as letting other people know that your repinning their pins too.


14. Readability
Readability is paramount, if your post is hard to read, people won't spend a lot of time on your site and it will affect your bounce rate and your Google ranking. There are a lot of ways to improve your readability that I mention in my post SEO Checklists for WordPress blogs.


15. Search Engine Optimization (SEO)
It takes about 3 months for your SEO to kick in. Therefore, you should start learning about SEO as soon as possible. I've made it relatively easy for you to master SEO in my post SEO Checklists for WordPress blogs.

One of the best ways to improve your site's SEO is to use Rank Math Pro SEO. Please take a look at these two Rank Math posts:
How to improve your Google ranking with Rank Math – This post is about how to improve your Google ranking with Rank Math so that your search results show up…
3 Reasons why Rank Math SEO is better than Yoast SEO? – In this post, I'll discuss the three principal reasons why Rank Math SEO is better than Yoast SEO which are:…

16. Super RSS Reader
An RSS Reader makes it easy for other people to see your blog posts once they are fed into an RSS reader program and can grow the traffic for your blog. To set up your RSS reader, visit my blog post: 11 easy ways to build backlinks and 7 useful ways to improve comments on your blog and navigate down to 1.9.8. Set up an RSS Feed for your blog.


17. Tailwind
Tailwind is a great program that will allow you to put pins on your Pinterest board while you sleep (providing that you've scheduled them). I use this program to forecast my pins about a week in advance.

The main thing to remember is to follow the Smart Guide built within Tailwind and if it suggest that you are going outside of the Pinterest established guidelines, tailor back your suggested number of pins so that you don't get flagged for spam. To learn the basics of Tailwind with it's new Communities check out my post Ultimate Guide for using the improved Tailwind.
18. Website Design
This is probably where you are going to spend most of your time unless you're a professional web designer. For those of us like myself that are amateur website designers, it's a never-ending process to get educated so that you can improve your blog. If you are contemplating starting a blog and would like some extra encouragement I would suggest that you partake in the same course that I got my induction into the Blogging Community at the 30 Day Blog Challenge.


This program (plug-in actually) is useful because it allows you and your visitors to see that you are keeping up on the continuity for your blog posts so that they are current and up to date. In the blogging world, there's always a lot of updates to programs. So once in a while, you will want to give a facelift to some of your older blog posts or revamp them entirely.


20. Yoast SEO Premium – I saved my favorite plug-in for last. The Yoast SEO has been a tremendous lifesaver by making SEO so much easier to use. I've made it relatively easy for you to master SEO in my post SEO Checklists for WordPress blogs. There you'll find the link to Yoast SEO. Update: October 14th, 2021. This "used" to be favorite plug-in until I discovered Rank Math SEO. If you truly want to bring your website to the next level by increasing your blog's traffic, join the over 100,000 people that have subscribed to Rank Math. Within the last month the number has gone from approximately 90,000 subscribers to 100,000+.

One of the newest things that they've just developed at Yoast is an internal suggestion on how long it will take to read the post. I haven't tried it yet, because I just downloaded the new version so I'm going to try and remember to incorporate that new feature into this new post. My anticipated guess is that it will tell you how long it will take to read the post.
I might have missed an item or two that is of interest to you, if that's the case, please be sure to check my post, Blogtober Day 27 – 50 Free Tips and Tricks for Bloggers – it's a glossary for Bloggers.
I hope that you have enjoyed this post 20 ways to take your blog to the Top in Blogging and that you're able to take away something from it or one of the related posts. Please be sure to drop a comment if you find something that I didn't already mention to help other bloggers.
Other suggested links:
Improving your SEO with Keyword Research
14 Programs to run an SEO Audit
How to Optimize your Blog for SEO
How to improve your Google ranking